When I first started eating in a more Planetarian Life way, I would have never thought that a rich, creamy dish like this Loaded Baked Potato Soup, topped with scallion greens, cheese, sour cream, and bacon would have been possible. A few years on my PL journey, however, I'm realizing that (short of a big holiday roast), I can create delicious plant-based versions of just about any dish that I desire. 
With potatoes already baked (see Baked Potato Base), this soup is almost as simple as simple as opening a can of soup. All you need to do to make Loaded Baked Potato Soup is crush the baked potatoes with a potato masher or large fork, chop and sauté an onion, add thyme for flavor, flour for thickener, and a combination of broth and oat creamer. Since the potatoes are already fully cooked, it's just a matter of bringing the soup to a simmer and cooking it until the thyme has a chance to infuse its flavor and the onions are fully tender, about 5 minutes. 
The soup is filling and satisfying on its own, but the toppings really make it special. Scallions add mild bite, sharp cheddar and sour cream—dairy or plant—add richness and tang, and our new Smokey Maple-Pepper "Bacon" contributes the salty-sweet-smoky flavor of bacon. 
Not all vegan and vegetarian dishes are kid-friendly but Loaded Baked Potato Soup has wide appeal—especially among children. 
It's nice to have baked potatoes on hand to jumpstart to dinner, but if you don't feel like making all five pound suggested in the Baked Potato Base, just follow the technique in How To: Fast Baked Potatoes. Use the broth of your choice, but these days our favorite vegetable broth is Better Than Bouillon. Unlike a lot of one-dimensional veggie broths, this one is full of flavor. 
We know baking a sack of potatoes sounds like a lot but give it a try. You're going to love how quickly and easily a satisfying meal comes together on a busy night.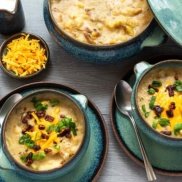 Loaded Baked Potato Soup
Recipe Notes
Toppings: some or all the following: sliced scallions, plant- or dairy-based sharp cheddar, Smokey Maple-Pepper "Bacon", plant- or dairy-based sour cream
Ingredients
2

tablespoons

olive oil

1

large onion,

cut into medium dice

1/2

teaspoon

dried thyme leaves

1/4

cup

all-purpose flour

2

cups

each: broth, your choice, and oat creamer

1 1/2

pounds

potatoes,

baked (See Baked Potato Base) and crushed with potato masher or large fork
Instructions
Heat oil over medium-high heat in a large soup kettle. Add onions and cook until tender, 4 to 5 minutes. Stir in thyme and flour, then whisk into broth and creamer and bring to a simmer. Add potatoes, reduce heat to medium-low, and continue to simmer to blend flavors, about 5 minutes. Serve with any or all of the suggested toppings listed above.