Not sure if it's that I'm aging or just living more deeply into Planetarian Life, but I'm less and less interested in lavish, multi-course meat- and dairy-rich dinners—even at the holidays. It doesn't feel good anymore to get up from the table, borderline miserable. Yet, one of the meals I closely associate with the holidays is creamy potato gratin, previously cozied up to a slice of roast beef tenderloin or glazed ham. By developing Planetarian Holiday Roast, I solved my holiday roast associations, but it was time to turn my attention to the potato gratin piece.
Years ago I had developed a simple broth-based potato gratin. It was good enough to accompany a rich pork stew, but not good enough to stand on its own. How to boost the flavors in this dish?
For me, it all begins with garlic and onions, which makes nearly every dish better. I started by making a batch of Caramelized Onions, which I thought would make a great stand in for the usual grated cheese between the potato layers. I then sautéed garlic slices and added white wine to boost the broth that would moisten the potatoes instead of heavy cream.
Finally, for extra flavor and crunch, I made a crumb topping, enhanced with parsley, a little Parmesan, and yes, more garlic!
The resulting gratin perfectly complemented the bold flavors of the Planetarian Holiday Roast but was interesting enough on its own. The tops crisps back up when you reheat it, so serve leftover gratin with vinaigrette-tossed salad or mash leftover gratin potatoes and add broth for an excellent potato soup.
Trick for Making Potato Gratin Perfectly Thin
With a mandolin, this dish is very easy to make. Without this handy tool, it's a little more challenging, but find the sharpest knife you can and do your best to slice the potatoes as thinly as possible knowing that you'll probably make fewer layers. Potato Gratin with Caramelized Onions is a little like layering a lasagna. It's hard to screw it up, and once baked, it's always delicious.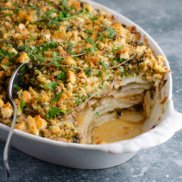 Potato Gratin with Caramelized Onions
Recipe Notes
Ingredients
1/2

cup

(generous) Caramelized Onions

4

tablespoons

olive oil divided,

plus extra for drizzling

4

garlic cloves -

2 thinly sliced, 2 finely grated

1/2

cup

dry white wine

2

cups

vegetable stock

2

cup

fresh breadcrumbs

1/4

cup

fresh parsley, minced

1/4

cup

grated dairy or plant-based Parmesan cheese

Salt and ground black pepper

3

pounds

Russet potatoes,

very thinly sliced (a mandolin works best)

Salt and ground black pepper

2

tablespoons

fresh thyme leaves
Instructions
If you don't have caramelized onions, make them now. Heat 2 tablespoons of oil in a large saucepan or small Dutch oven over medium heat. Add sliced garlic cloves and sauté until fragrant and starting to turn golden, just a few minutes. Add wine and bring to a simmer; continue to simmer until raw flavor has cooked off, a couple of minutes more. Add broth; bring to a simmer, turn off the heat, cover and keep warm.

Mix breadcrumbs, parsley, cheese, remaining garlic, remaining 2 tablespoons of oil, and a light sprinkling of salt and pepper; set aside. Heat oven to 350 degrees. In a 13- by 9-inch or similar size pan, layer potatoes in 5 layers, seasoning the first 4 with a very light drizzle of olive oil, a light sprinkling of salt and pepper, and a portion of caramelized onions and thyme. Add the final layer of potatoes, pouring broth mixture over to nearly cover the potatoes. Sprinkle with breadcrumb mixture and bake until potatoes are cooked, and breadcrumbs are golden, about 1 hour. For a darker crumb topping, turn on the broiler and continue to cook to desired hue. Remove from oven, let rest a few minutes, then serve.