My husband, Andy, and I love a good baked potato. Sometimes I add Chickpea "Chicken" or "Tuna" Salad, and Andy loves his with a big spoonful of vegetarian baked beans, a la the British jacket potato. Other times we'll add one of our 15-Minute Skillet Stews. But a good baked potato loaded with plant-based butter, sliced scallions, salt, and pepper can be a satisfying, light dinner alongside a salad and steam-sautéd or roasted veggies.
Here's the thing: the oven method gives you that lovely crisp, salty skin that's got you eating the whole potato, but it takes an hour and emits a great deal of CO2. The microwave cooks a potato in about eight minutes and emits fourteen times less CO2 than the oven, but you don't get the crispy skin! What to do?
While we don't like the leathery texture of fully microwaved potatoes, we wholeheartedly endorse the microwave for efficiently par-cooking while the oven preheats. Just eight minutes on high power and potatoes are piping hot and just starting to soften.
Then, thirty minutes in the oven is plenty of time for the potato to turn soft and fluffy and the skin to bake up irresistibly crisp. It will also free up time to make one of the full-flavored sauces that transform a plain tuber into a hearty, satisfying main course. Faster, delicious, and better for the planet.
Our Fast Baked Potato Technique
The technique is straightforward. Pre-heat the oven then wash, dry, oil and salt the potatoes. This little step ensures the entire potato—not just the insides —will get eaten. Place the seasoned potatoes in the microwave, leisurely switching them when the oven reaches temperature.
While the potatoes bake, make a sauce or topping. Try one of our 15-Minute Skillet Stews!
Although the skin isn't as crisp, these potatoes are excellent reheated in the microwave or oven. Or do a little of both—use the microwave to take the chill off and finish them in the oven. Whatever way they get reheated, they're thrice baked now!
Same Technique For Baked Sweet Potatoes
You can use the same technique for sweet potatoes, too!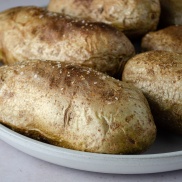 How To: Fast Baked Potatoes
Recipe Notes
Ingredients
4

large

Idaho potatoes,

washed and thoroughly dried

Olive oil

Kosher salt
Instructions
Adjust oven rack to middle position and heat oven to 400 degrees. Meanwhile rub potatoes with enough oil to coat and sprinkle generously with salt. Microwave on high power for 8 minutes while oven heats. Transfer potatoes to a rimmed baking sheet; bake until tender, about 30 minutes.