There's only one store in my area that carries jars of the olive salad they spread on Muffulettas, those irresistible New Orleans sandwiches loaded with Italian meats and cheeses. Sometimes the store has it; sometimes it doesn't. When it's in stock, I always pick up one, because now that we're Planetarian, we regularly enjoy meatless Muffulettas. We can make these highly flavorful and very satisfying sandwiches on-the-fly. And I'm always disappointed to see the grocery shelf empty, which is why I decided to develop an olive salad. To me, it's that essential.
How to Use Olive Tapenade
This homemade olive salad comes together in minutes and can be refrigerated for weeks, ready to pull out and spread on meatless Muffulettas and to perk up so many Planetarian dishes. We use it to flavor-punch salads—lettuce, pasta, and potato. We spoon it over avocado toast (when we don't have any Roasted Cherry Tomato Confit!) and baked potatoes and stir it into rice, pasta, and couscous dishes. When a recipe calls for olives, consider pulling out the olive spread—it's colorful, flavorful and, unlike a lot of olives that need pitting and chopping, it's ready to use.
Meatless Muffulettas
When making a meatless Muffuletta, we spread the olive salad over toasted split ciabatta rolls. If we're in a hurry, we slap on a couple of slices of cheese—plant or dairy—and that's it. We've got a satisfying sandwich on the go. If we have a little more time, we add thinly sliced red onion, bell pepper, and salted tomatoes. If you happen to have leftover grilled or broiled eggplant, it adds wonderful substance and flavor to this sandwich.
Many olive salads use kalamatas for the black olives in the mix. With all of the other piquant ingredients in the salad, we actually prefer the milder canned black olives. And many recipes use giardinieria in their olive salad. For better crunch and color, we microwave diced fresh carrots and celery with the vinegar for a minute to create little instant pickles.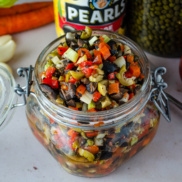 Carnivale Olive Tapenade
Recipe Notes
We give this olive salad its name because of the vivid coloring—black, red, orange, and green—and all the fun uses.
If you have regular stuffed pimento olives, feel free to use them. We called for the salad variety because they're cheaper, and since they're getting chopped for the salad, they don't need to be perfect.
Ingredients
1/2

cup

each: finely chopped celery hearts and carrots

1/4

cup

red wine vinegar

Salt

2

medium cloves

garlic,

minced

1

can (6 oz)

ripe black olives,

drained and finely chopped (1 generous cup)

1

jar (5 oz)

pimento-stuffed salad olives,

drained and finely chopped (scant cup)

1/2

cup

chopped roasted red peppers

1/4

cup

capers

2

teaspoons

dried oregano

1/2

cup

extra-virgin olive oil
Instructions
Place celery, carrots, vinegar, and a light sprinkling of salt in a microwave-safe bowl. Microwave on high power until vinegar is hot, about 1 minute. Stir in remaining ingredients. Can be covered and refrigerated for several weeks.