Rice is such a simple food, and yet I have heard from so many people that they find it impossible to make. If you fall into this camp, I feel for you. I will never forget the first dinner I made in college with my roommates, when we boiled rice until soft and then drained it with a strainer. Needless to say, that's not how it's done. Fortunately, my mom taught me the foolproof method. Yes, a rice cooker will give you a perfect pot of rice and so will an InstantPot, but a regular pot with a tight-fitting lid does the job without any extra equipment taking up space on your counter or in your cupboards.
Having just a few cups of rice in the fridge makes a quick lunch – or even breakfast – come together fast! It's a simple base upon which flavor and texture can quickly be layered. A cup of beans or leftover Skillet Stew a few Quick Pickled Onions.  A few Steam-Sauteed Vegetables topped with soy sauce, sesame oil, and chili crisp. When you've got rice, a good meal is just a simple topping away. But, how do you make that perfect pot of rice?
First: the size
There are over 40,000 types of rice in the world. Of course, what you'll find in your grocery store is closer to ten varieties, but rice basically falls into three categories: short grain, medium grain, and long grain. Short grain rice, such as arborio and sushi rice, are sticky and gluey once cooked (in the best possible way). Long grain rice, like basmati and jasmine, are a lot drier and fluffier when cooked, perfect for soaking up aromatic curries and juicy stir-fries. There are definitely recipes where you should reach for short or long grain rice, but for everyday use, medium grain rice is the Goldilocks choice – not too dry, not too sticky, just tender and moist.
Second: the ratio for a perfect pot of rice
The ratio for medium grain rice is 3 cups water 2 cups rice. Commit that to memory and you'll never have to come back here for the recipe again.
We also have a recipe for our Pot of Rice Base– it makes a large pot of rice so it can be used for multiple meals. But you'll notice, the ratio never changes!
Third: the fat
It's optional, but we like to add a little fat to our rice for added body, richness, and flavor. For regular, everyday rice, just add a tablespoon of plant-based butter or olive oil. If you're making something with an Asian or Indian flavor profile, add a tablespoon of coconut oil to give the dish a fragrant, flavorful base.
Fourth: the method
It's as simple as this: put a medium-sized pot (that has a tight-fitting lid!) on the stove and add 3 cups of water and 2 cups of rice. Add 1 teaspoon of salt, 1 tablespoon of fat (optional), and bring it all to the boil. Once it's boiling, cover with the lid, reduce the heat to low and set the timer for 15 minutes. When the timer goes off, turn off the heat and let the rice steam for a further 5 minutes.
Just remember it's as easy as 3-2-1: 3 cups water, 2 cups rice, 1 teaspoon salt.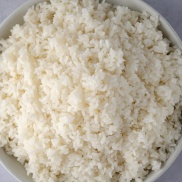 Perfect Pot of Rice
Recipe Notes
Can be covered and refrigerated for a week or more.
Ingredients
2

cups

medium grain white rice

1

teaspoons

salt

1

tablespoon

coconut oil or olive oil,

optional
Instructions
Bring 3 cups of water, the rice, and 1 teaspoon salt to simmer over medium-high heat in a large covered pot. Reduce heat to low and simmer, covered, until water has evaporated and rice is fully cooked, 12 to 15 minutes. Remove from heat and let stand, covered, 5 minutes longer.