---
This is a Variation on a Root Formula, a simplified recipe that shows which ingredients
are core and which can be changed to create different flavor combinations or use what you
have on hand. See our other variations at the bottom of the Root Formula page.
---
Our Planetarian muffin formula offers the perfect balance between decadence and health. Chockfull of good-for-you yummy extras, a little scoop of whole wheat flour, a glug of molasses, and the chia seed stand-in for eggs, these plant-based muffins are great for an on-the-run breakfast. Yet, the bold flavors, the rich, tender texture, and the studded top make them feel like something you picked up at a specialty bakery on the weekend.
As with all of our formulas, we give you the root formula followed by variations, so that you can bake up a batch of muffins that we developed for you or create your own.
Ginger-Smacked Blueberry-Walnut Muffins
Morning Glorious Muffins
Holiday Cranberry Muffins
Pumpkin Spice Muffins
We give you the option to make these muffins traditionally with eggs and dairy yogurt, but we're hoping you give the Planetarian version a try to see just how delicious these muffins can be with chia seeds and plant-based yogurt.
Make a batch, enjoy a few, and then freeze the rest for the week. They microwave to perfection with one minute on defrost and followed by twenty seconds on high power.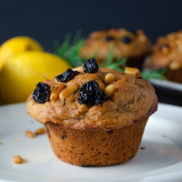 Lemon-Rosemary Muffins with Raisins and Pine Nuts
Recipe Notes
If you'd prefer to use eggs, substitute 2 large eggs for the chia seeds and water.
Ingredients
2

cups

all-purpose flour

1

cup

whole wheat flour

1

tablespoon

baking powder

1/2

teaspoon

each: baking soda and salt

1

tablespoon

each: finely grated lemon zest and finely chopped fresh rosemary

10

tablespoons

coconut oil or plant-based butter

(1/2 cup plus 2 tablespoons)

1/2

cup

brown sugar

1/4

cup

molasses

2

tablespoons

chia seeds mixed with 10 tablespoons

(1/2 cup plus 2 tablespoons water)

1 1/2

cups

plain yogurt

(not Greek), plant-based or dairy

1 1/4

cup

raisins,

divided

1/4

cup

pine nuts
Instructions
Adjust oven rack to lower-middle position and heat oven to 375 degrees. Mix flours, baking powder, baking soda, salt, lemon zest, and rosemary in a medium bowl.

Beat coconut oil, sugar, and molasses with an electric mixer over medium-high speed until light and fluffy, a minute or so. Beat in chia seed mixture, then 1/2 of the dry ingredients, followed by 1/3 of the yogurt. Continue beating in dry ingredients, alternating with yogurt, in two more rounds to make a stiff batter. Switch to a rubber spatula and fold in 1 cup of the raisins. Spray a 12-cup muffin tin with vegetable cooking spray. Use a large ice cream scoop to divide batter evenly among the cups. (They will be full.) Press a portion of the remaining 1/4 cup of raisins and the pine nuts into each mound of batter so that they adhere. Bake until muffins are golden brown, about 30 minutes. Set on a wire rack to cool slightly, about 5 minutes. Remove muffins from tin and serve warm.