Summer is here and grill season is firmly upon us. This is definitely a time when it can be more difficult to make a Planetarian choice. But we've got a good one for you! The next time you get a hankering for a grilled steak, head over to the produce department and pick up some Portobello mushrooms. You'll be amazed by the satisfying dinner they make, and the sauce—made from the mushroom marinade, stems, and gills (all of which are typically chucked)—is incredibly rich and delicious. When you make these grilled mushrooms, think about pulling out that special bottle of red wine.
Grilled Mushrooms or Broiled Mushrooms
We offer two versions of these mushrooms—grilled and broiled. For those with grills, fire 'em up and give these meaty fungi a try. For others who don't have access to a grill, we offer a broiling method as well.
Use the WHOLE grill!
If you're grilling, take this opportunity to fill the unused space with other vegetables—either for dinner side dishes or vegetables for another meal.
When we developed these recipes, local asparagus was in season, so that's what we're enjoying with our steak. Depending on thickness, the spears should be done in 5 to 7 minutes. To prepare a bunch of asparagus for the grill, snap off and discard the tough woody ends and then season the spears with olive oil, salt, and pepper. Add them to the grill at the five-minute mark when you're turning the mushrooms. Thin spears should be done by the time the mushrooms come off. Thicker spears will likely need another couple of minutes. To make sure they don't fall through the grate, lay them crosswise over the grate. If you're broiling the mushrooms, simply steam-sauté the asparagus.
Depending on grill size, you may have space for a few small potatoes. Add whole oiled, salted, and peppered tiny new potatoes at the beginning when you add the mushrooms and grill until golden brown and cooked through. They should be done when the mushrooms come off in about 10 minutes. (Small halved new potatoes, cut side down, work too.) If you're broiling the mushrooms, consider boiling the potatoes and then butter, salt, and pepper them after draining.
No excuses. You have to make the sauce.
It's that good, and it's the thing that's gonna bring that mushroom alive and taste like your new meat.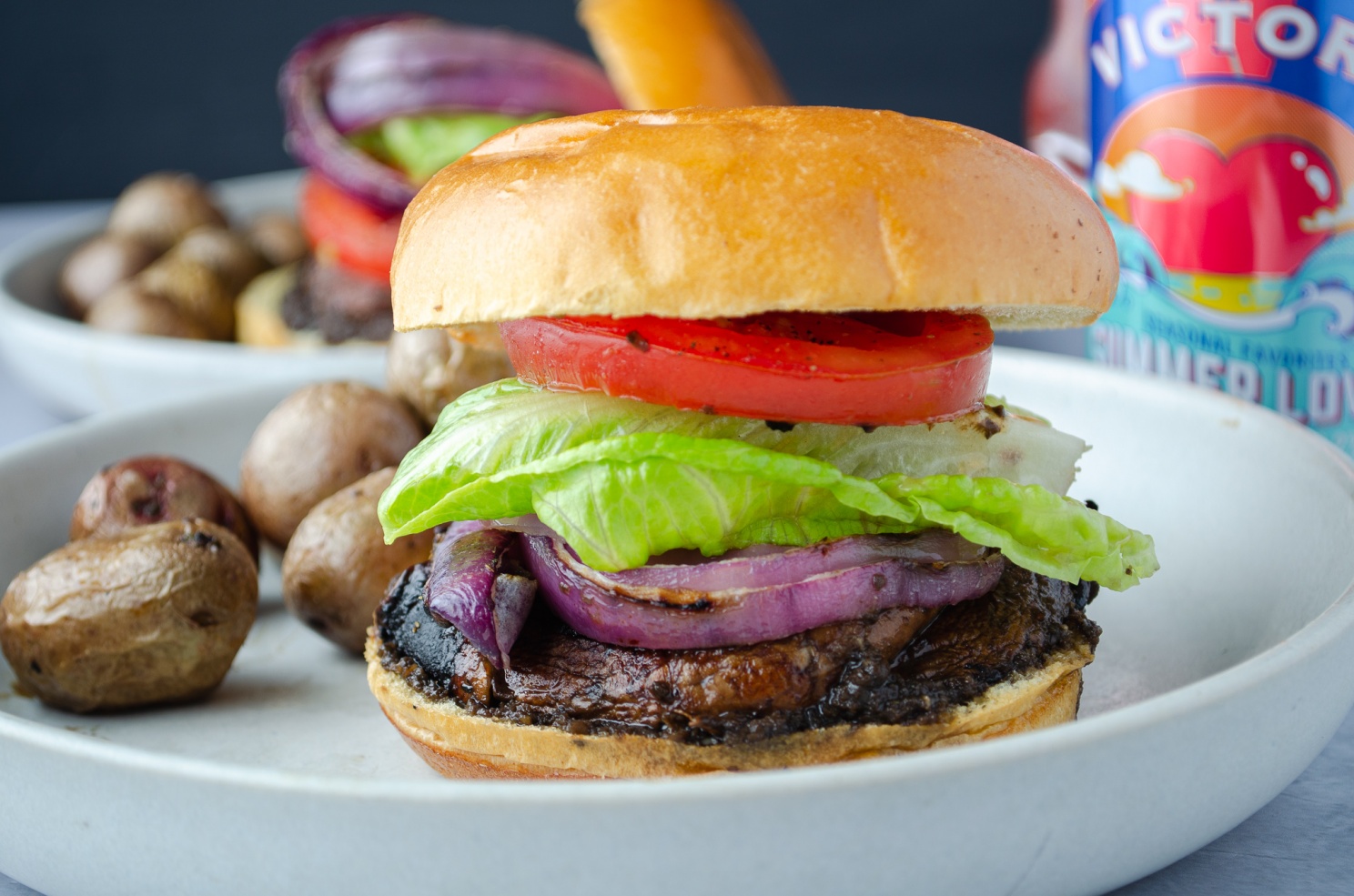 We're discovering new ways to serve these grilled Portobello mushrooms—we've served them in a bun with the classic hamburger trimmings (drizzle them with the sauce!). We've stacked them with fresh tomatoes and other grilled veggies—  eggplant, zucchini, red onion—and topped it with the Red Wine-Mushroom Sauce. The other night we threw them on top of potato galettes with the Red Wine-Mushroom Sauce drizzle—reminiscent of Steak Frites. But, of course, they would also be great sliced up on a salad. Give them a try!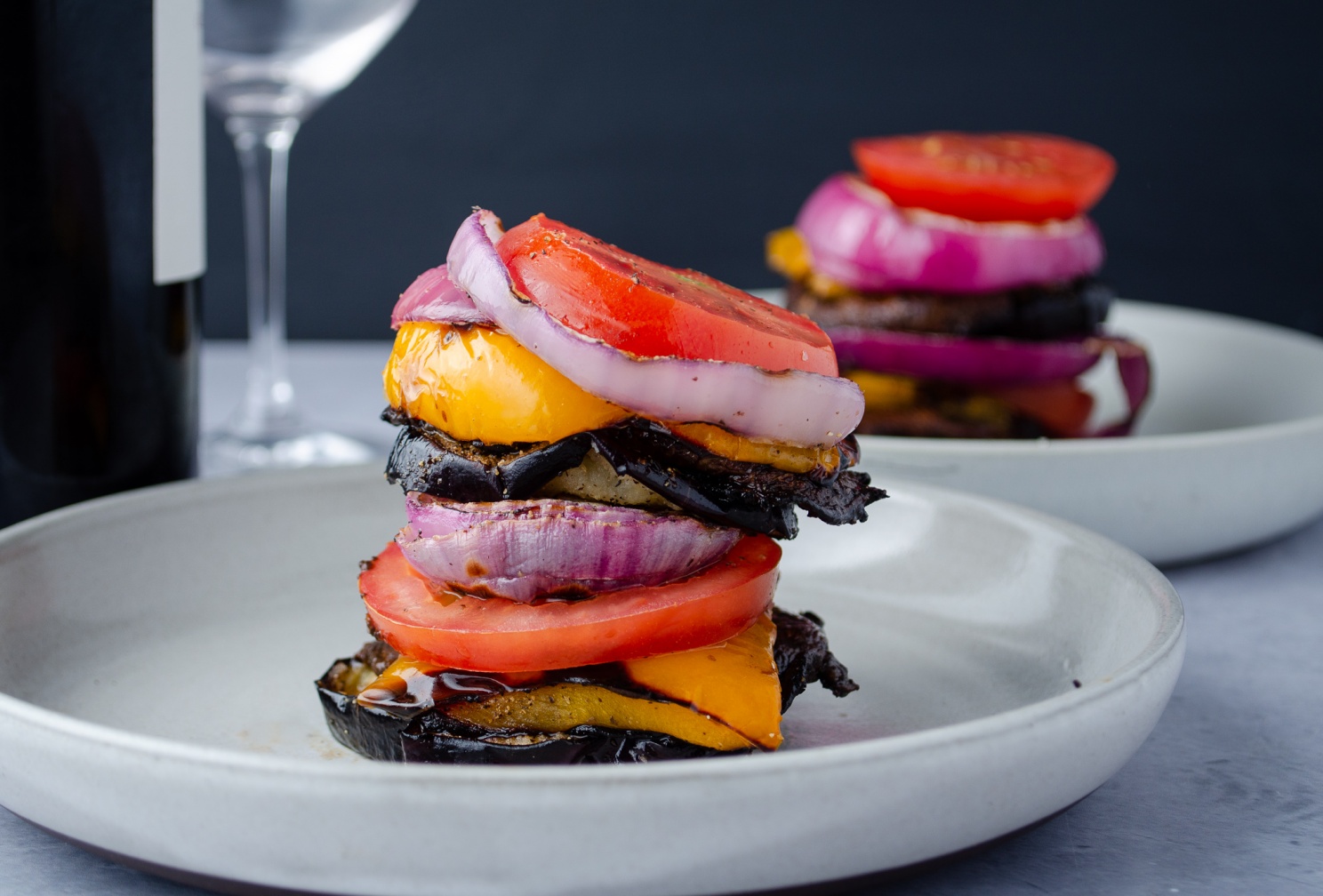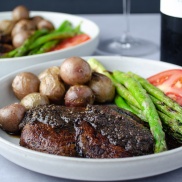 How To: Grilled (or Broiled!) Portobello Mushrooms
Recipe Notes
These portobello mushrooms are great as standalone "steaks," or in sandwiches, soups, and salads, so even if you're only cooking for two, consider grilling all eight and get a start on dinner those nights you don't feel like cooking.
Ingredients
8

medium portobello mushrooms,

stems removed, gills scraped out, and both reserved

3

garlic cloves

1/4

cup

each: balsamic vinegar, soy sauce, and olive oil

1/4

cup

red wine
Instructions
Place prepared mushrooms in a gallon-size freezer bag. Place garlic, vinegar, soy, and oil in a food processor; blend to make an emulsified marinade. Add marinade to mushrooms; marinate for at least fifteen minutes and up to an hour. Process gills and stems in the unwashed food processor bowl and turn into a medium saucepan; set aside.
For Grilling:
About 20 minutes before serving, heat gas grill, igniting all burners on high for 10 minutes. When ready to grill, place mushrooms on a rimmed baking sheet and pour excess marinade into the saucepan, along with the wine and 1/4 cup water.

Clean hot grill rack with a wire brush and lubricate it with an oil-soaked rag. Place mushrooms, cap tops down, on hot grill grate; Cover and cook until impressive grill marks form, about 5 minutes. Turn mushrooms over and continue to grill until mushrooms are cooked through, about 5 minutes longer.
For Broiling:
About 20 minutes before serving, adjust oven rack to upper position—about 6 inches from the heating element—and turn oven to broil. Let broiler heat for 10 minutes. When ready to broil, place mushrooms, tops side up, on a foil-lined rimmed baking sheet and pour excess marinade into the saucepan, along with the wine and 1/4 cup of water.

Broil mushrooms until impressively brown, about 8 minutes. Turn mushrooms over and carefully pour excess mushroom juice into saucepan. Continue to broil mushrooms until they are cooked through, about 5 minutes longer.
While Mushrooms Cook:
While mushrooms grill or broil, bring sauce to a simmer over medium-high heat; continue to boil to blend flavors and reduce to a thin sauce consistency, about 5 minutes. Serve mushrooms, top sides up, with sauce drizzled over.