When you Google Creamed Spinach recipes, the first one in the queue is entitled Morton's Steakhouse Creamed Spinach. This recipe, serving eight, contains 4 tablespoons of butter, 3 1/2 cups of half and half, 1 cup of mozzarella cheese, 4 ounces of cream cheese, and 1/2 cup of Parmesan cheese. All this fat and dairy for just one measly pound of frozen spinach.  I can just hear my late father exclaiming, "So you like a little spinach with your fat?"
When we thought about a creamed spinach recipe for the holidays, our goal was not only to develop one that was Planetarian, but also to create one that was just right, but not over-the-top, rich.
Making Creamed Spinach Without Dairy
To keep it creamy yet light, we used a combination of full-fat coconut milk, but then switched to less rich plant creamer to make up the remaining liquid. You can use whatever creamer you like, but we prefer oat. To us, it's the most neutral of the bunch.
To thicken the creamer and coconut milk enough to adhere to the spinach, we made a roux—3 tablespoons each—of plant butter and flour—and flavored it with traditional creamed spinach flavorings of garlic and nutmeg. Finally, we finished the spinach with just enough Parmesan cheese for diners to notice. We opted for Parmigiana Reggiano, but you could use plant parm as well.
Our recipe, serving 6 to 8, starts with 2 pounds of frozen spinach—double the amount in the Morton's recipe. With a can of coconut milk and a cup of oat creamer, 3 tablespoons of plant butter, and 6 tablespoons of Parmesan cheese, we think we accomplished our goal of creating a creamed spinach that's rich enough to taste special and where the spinach also shines.
 If you prefer, you can substitute frozen kale for the spinach for a dish that's perfect for the holiday menu, yet simple and light enough to make regularly.
Once you try Planetarian Creamed Spinach, we're guessing you'll never go back to the traditional dairy-rich version ever again.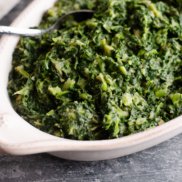 Planetarian Creamed Spinach
Recipe Notes
Ingredients
3

tablespoons

each: plant or dairy butter and flour

3

garlic cloves,

finely grated or minced

2

pounds

frozen chopped spinach or kale,

thawed and squeezed dry

1

can (13.5 oz)

full-fat coconut milk

1

cup

plant creamer,

such as oat

1/8

teaspoon

ground nutmeg

Salt and ground black pepper

6

tablespoons

grated plant-based or dairy Parmesan cheese or 1/4 cup nutritional yeast
Instructions
Heat butter in a large saucepan or small Dutch oven. Add garlic and cook until fragrant, a couple of minutes. Whisk in flour, then stir in chopped spinach or kale. Add coconut milk, followed by creamer. Season with nutmeg and salt and pepper to taste. Stir in cheese (or nutritional yeast) and cook to heat through, just a few minutes. Serve.