You'd think between the milk, the butter, and enormous amounts of cheese that mac and cheese would be a Planetarian challenge. Yet I knew it was possible, because a couple of years ago I attended an event called S'Mac Down, a vegan mac and cheese competition between local Bethlehem, PA restaurants. After sampling them all, I knew that when I got around to developing my own, a good plant-based mac and cheese was possible.
A couple of years later, and I finally got around to it. Here's our Velvety Planetarian Mac & Cheese recipe, which we're very happy with. The ratio of pasta (on the light side), broccoli (on the heavy side) and rich gooey sauce is just right. We use scallions to heighten flavor and brighten the color, sautéing the white parts in plat-based butter for the sauce and tossing the green parts into the rest of the dish—half with the pasta and the remaining half with the breadcrumb mixture. We use a relatively small amount of plant-based sharp cheddar, boosting cheesiness with nutritional yeast and yellow miso and reinforcing sharpness with a dollop of coarse-grain mustard. Coconut milk stands in for dairy milk and a mix of yellow turmeric and rusty paprika create that appealing orange cheese color.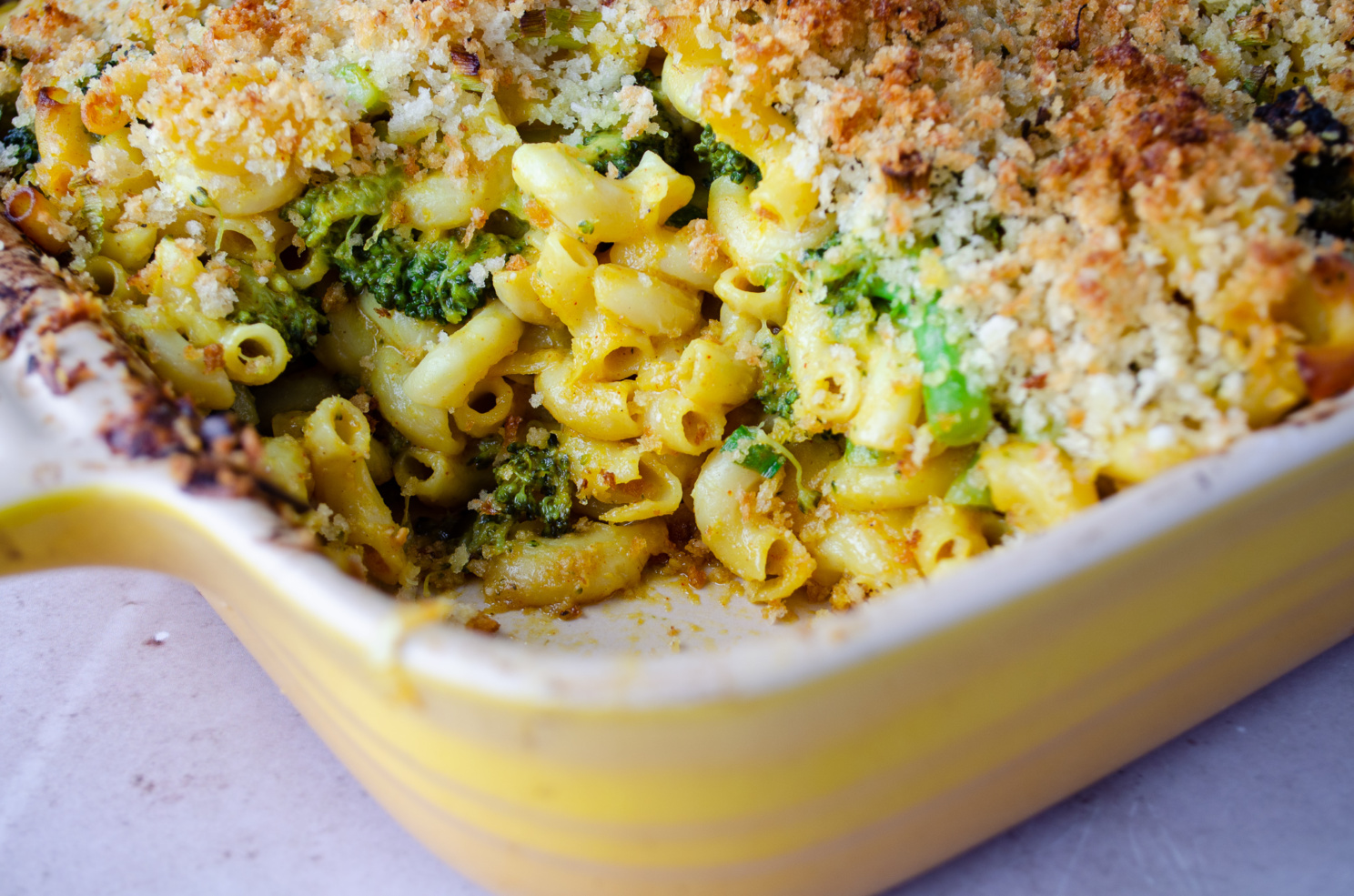 Change up the Flavors in your Mac & Cheese
For now, Velvety Planetarian Mac & Cheese will live in Classics, but eventually we will use this dish as a formula to create vastly different variations. In the meantime, create your own variations. Sub in frozen green peas or sautéed mushrooms for the broccoli. Stir in a tablespoon of chili powder into the sauce or a half cup of chopped sundried tomatoes into the pasta. Flavor the breadcrumbs with a big pinch of dried thyme leaves. Have fun customizing it to create your own version.
Using Parmesan
We were especially impressed with the flavor and texture of the plant-based sharp cheddar. We haven't converted to plant-based Parmesan cheese yet, but those who want to make this dish fully vegan can certainly use it in the breadcrumb mixture.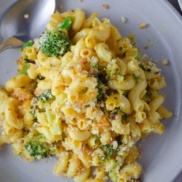 Velvety Planetarian Mac and "Cheese"
Recipe Notes
Ingredients
Salt

12

ounces

macaroni or similar shaped pasta

1

pound

broccoli crowns, florets, stems, and stalks cut into small pieces

1

bunch

scallions,

thinly sliced, white and green parts separated

6

tablespoons

plant butter,

divided

1/4

cup

all-purpose flour

1

can (13.5 oz)

regular coconut milk

1/2

cup

nutritional yeast

1

tablespoon

whole-grain mustard

1

teaspoon

each: turmeric and paprika,

sweet or smoked

8

ounces

non-dairy sharp cheddar cheese,

grated and divided

1/4

cup

yellow miso

Ground black pepper

1

cup

panko breadcrumbs

1/4

cup

Parmesan cheese,

vegan or dairy
Instructions
Adjust oven rack to lower middle position and heat oven to 425 degrees F. Bring a generous 2 quarts of water and 1 tablespoon of table salt to boil in a large pot. Using back of the box cooking times as a guide, add pasta to the water, stirring several times at the beginning to prevent sticking. Add broccoli the final minute of cooking and then return water to a simmer. Setting a bowl underneath to catch the cooking liquid, drain pasta. Turn pasta and broccoli, along with half the scallion greens and half of the cheese, into a 13- by 9-inch oven-proof baking dish while making the sauce.

While pasta cooks, measure sauce ingredients. Heat 4 tablespoons of the butter in a large saucepan or small Dutch oven. Add scallion whites; sauté until softened, 2 to 3 minutes. Whisk in flour, then coconut milk and 1 cup of the pasta cooking liquid; whisk until thick and smooth. Whisk in mustard, nutritional yeast, turmeric, paprika. Remove from heat. Whisk in miso and remaining half of the cheese. Adjust seasonings, including salt and pepper to taste.

In a small bowl, mix panko, Parmesan, remaining scallion greens and butter, along with a sprinkling of salt and pepper. Pour sauce over pasta; toss to coat. Sprinkle with panko and bake until sauce is bubbly and crumbs are an impressive golden brown, about 20 minutes. Let cool for a few minutes and serve.