---
This is a Root Formula, a simplified recipe that shows which ingredients are core and which can be changed to create different flavor combinations or use what you have on hand.
See our Variations on this Formula for easy pearl couscous below.
---
When Andy and I visited Croatia in 2015, every restaurant had a menu designed to impress international tourists. They were replete with rich cream sauces, squid ink pastas, truffle oil. After a few days of that, our stomachs longed for simple food. One afternoon while out to lunch we saw the kitchen and wait staff enjoying a tomato-based stew with hunks of bread. We said to our waiter, "What's that? We want that!" He replied, "Oh, that's just staff food, it's not on the menu." This easy pearl couscous dish reminds me of that meal, made from inexpensive and easily accessible ingredients, but you can't get enough of it. Your body craves it – especially after the indulgences of a weekend, a holiday, or vacation. It doesn't look like much, but when these ingredients meld and marry it is umami central.
We have been making some version of this dish for years. But when we decided to add it to the Capsule Kitchen we tested it several times to make sure we had the right root formula. While most recipes we tire of, this we could eat forever, especially with a rotating cast of vegetables. A note for people with little ones: kids love this "tiny pasta" dish and eat it without fuss.
The dish is perfect for the night when you want something nourishing and comforting that will stick to your ribs, but you need it to be easy and fast with little prep. The ingredients are so simple, we always have them on hand. And because this is a formula, you can toss just about any vegetable in and you've got a complete meal in a bowl.
What vegetables to use and when?
When it's cold, we reach for vegetables like butternut squash, cauliflower, and Brussels sprouts. When the mercury rises, we reach for things like asparagus, cherry tomatoes, and peas. Here's our technique for steam sautéing all vegetables. If we're using frozen vegetables like peas, corn, or carrots, we just toss 'em right in! This is a recipe you can really make your own.
If you're looking for inspiration, try one of our Variations. We love to make it with Mushrooms and Peas, Brussels Sprouts and Squash, or Asparagus and Peas depending on what's in season.
A note on cheese in this easy pearl couscous
Because this dish is so simple, the parmesan cheese element is important. There are some dishes where I happily opt for a  vegan cheese, but we do use real parmesan here. Feel free to use a plant-based parmesan cheese or even nutritional yeast. You can leave the cheese out altogether, it will still taste good, but it will be missing a little je ne sais quoi.
Stir in some pesto!
If you're not using cheese or if you want a little extra flavor, stir in a tablespoon of our Lemon Pesto, Kale-Walnut Pesto or any pesto you have made or bought.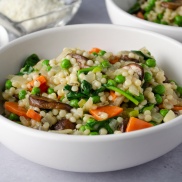 Pearl Couscous and Veggie Pot (A Root Formula)
Recipe Notes
The vegetables for this dish are cooked in one of two ways: sautéed or steam/sautéed. You can certainly use vegetables from both categories to flavor the dish, but it's simpler if you choose them from the same category.
If you can't find pearl couscous you can substitute orzo or fregola. 
Ingredients
1

large

each: onion, carrot, and celery stalk,

cut into small dice

1

pound

Prepared Vegetables, pick 2 (see below)

3

tablespoons

olive oil,

divided

1

teaspoon

Dried Herbs

(such as thyme, tarragon, rosemary, basil, and sage)

2

cups

Pearl (Israeli) couscous

1

quart

vegetable broth

Salt and ground black pepper

4

cups

packed spinach or chopped massaged kale

¼

cup

Parmesan cheese,

plus extra for sprinkling (optional)
Steam-Sautéed Vegetable Options
Brussels sprouts: trim and halve
Winter squash, turnips, or rutabagas: peel and cut into medium dice.
Broccoli or cauliflower: trim and cut into small florets.
Cabbage: halved, core, and coarsely shred.
Asparagus: snap off tough ends and discard; remove tips and cut thin spears into 1-inch lengths; halve medium and large spears lengthwise and cut into 1-inch lengths.
Carrots: peel and thinly slice.
Snow peas or sugar snap peas: if not done already, remove strings; halve crosswise.
Green beans: trim and cut into 1-inch lengths.
Sautéed Vegetable Options
Mushrooms: thinly slice.
Peppers: cut into medium dice.
Zucchini and yellow squash: trim ends and cut into medium dice.
Cherry tomatoes: halve large ones; leave small ones whole.
Eggplant: trim and cut into medium dice.
Fennel: halve, core, and coarsely shred.
Instructions
Prepare onions, carrots, celery and your choice of Sautéed or Steam/Sautéed Vegetables; heat 2 tablespoons of oil over low heat in a soup kettle.

When ready to sauté, increase heat to medium-high and add onion, carrots, and celery; sauté until softened, about 5 minutes. Stir in Dried Herbs and then couscous, followed by broth; cover and bring to a simmer. Reduce heat to medium-low and continue to simmer until most of the liquid has absorbed but dish is still moist, about 10 minutes.

While couscous cooks, cook vegetables.

If using Steam/Sautéed Vegetables place vegetables of choice in a large (12-inch) skillet with remaining 1 tablespoon of oil, 1/4 cup of water, and a sprinkling a salt and pepper. Cover skillet, turn burner to high, and heat until vegetables start to steam. With skillet still covered, cook until all of the liquid has evaporated and vegetables start to sauté, about 5 minutes. Remove lid and continue to cook until vegetables turn golden brown, a few minutes longer. If using Sautéed Vegetables, heat remaining 2 tablespoons of oil in a large (12-inch) skillet over medium-high heat. Add vegetables of choice and sauté until tender, about 5 minutes; sprinkle with salt and pepper.

Stir in Vegetables and spinach or kale and optional cheese into the couscous and cook to wilt spinach or kale and blend flavors, a couple of minutes longer. Adjust seasonings, including salt and pepper to taste. Serve with optional cheese passed separately.