Of all the elements of the Capsule Kitchen, Bases are my favorite and the ones I rely on the most. I love the variety of dishes I can make from Bases like Cream-Style Corn, A Vat of Simple Tomato Sauce, Falafel, Lentil Walnut Mix, A Pot of Beans, and A Pot of Rice, and I'm always looking for new ones. My new favorite is Baked Potato Base, baking a five-pound bag at one time. 
If you're in a hurry and only want to bake four potatoes, we already offer a technique on Planetarian Life How To: Fast Baked Potatoes, first microwaving the potatoes while the oven is preheating, then finishing them in the oven until tender. 
But if you've got a just a few more minutes, why not effortlessly bake a whole five-pound bag which, once baked, can be refrigerated for at least a couple of weeks, and used to jumpstart several Planetarian entrees. 
For example, when the potatoes from the Baked Potato Base are hot out of the oven on the first night, consider making one of our super-quick 15-minute skillet stews to spoon over four of them.  Refrigerate the remaining potatoes for our two new Jump Starter recipes—Baked Potato-Spinach Cakes and Loaded Baked Potato Soup. With the potatoes already cooked, both entrees for four come together in about twenty minutes. Want an even simpler dish? Cube the cooked potatoes, toss them into a skillet of hot oil, and in minutes, you've got a delicious pan of home fries. 
Preparing the potatoes for baking takes just a few minutes. Start by preheating the oven to 400 degrees. If you have a toaster oven large enough to bake five pounds of potatoes, use it instead. Not only does a toaster oven save time—it preheats so much faster than a regular oven—it is also more energy efficient. 
If you buy a five-pound bag, there's no need to weigh the potatoes. Just give them a rinse, a quick scrub, and a light drying. Prick them a few times with a fork to allow steam to escape (and avoid a potential potato explosion!), then lightly drizzle and rub them with olive oil and sprinkle them with Kosher salt. By the time you've prepped the potatoes, the oven should be preheated. If not, just toss them into the preheating oven and get the cooking process started. 
After that, go about your business. There's nothing more to do than just wait for them to get done. And after that, you've got the potential for three very different potato-based meals in the coming days.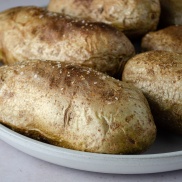 Baked Potato Base
Recipe Notes
You can also use yellow/gold potatoes in the Base recipe as well.
Ingredients
5

pounds

medium Russet (Idaho) potatoes

Olive oil

Kosher salt
Instructions
Heat oven (a large toaster oven if you've got one) to 400 degrees. Place potatoes on a rimmed baking sheet; prick each potato in a few places to release steam during baking. Lightly drizzle potatoes with olive oil; rub each to coat. Sprinkle potatoes with salt and then bake until fully cooked, 45 to 55 minutes, depending on size. Proceed with one of the Jumpstart recipes.