I wouldn't have believed that a recipe as simple as these Baked Potato-Spinach Cakes could be so good, but it is. With potatoes already baked, these cakes are quick enough to make for weeknight dinner, but they're special enough to serve as a first or main course for a nice dinner. These cakes also make a delicious breakfast or brunch entrée and can be made ahead and refrigerated for a couple of days, but potatoes do not freeze well. 
They're good on their own, but a plop of any of the Planetarian Life pestos adds great flavor—especially Lemon Pesto and Sundried Tomato Pesto. Another of our favorite PL flavorings is Romesco Sauce. 
With a pound and a half of stick-to-your-ribs potatoes and a full pound of spinach, these cakes make a complete meal, but to fill out the plate, you might add a simple steam-sautéed vegetable. Depending on the season, asparagus, carrots, broccoli, cauliflower, and Brussels sprouts are all good choices, but in the summer, a couple of slabs of ripe tomatoes nicely rounds out this simple supper.  
You only need a bowl and a skillet to make Baked Potato-Spinach Cakes. With the potatoes already baked, give them a good crushing with a potato masher or large fork. Make sure to leave in some lumps, which offers great texture to the cakes, and transfer them to a large bowl. Place the garlic and oil in a large skillet and heat until the garlic starts to sizzle, then immediately add the spinach. At first, you'll think there isn't enough room for all the greens, but in seconds, the spinach reduces to a fraction of its original size. No need to cook much longer. As soon as it wilts, it's done. Sprinkle lightly with salt and then turn it onto a cutting board, coarsely chop it, and add it to the potatoes. You're almost done! Add a few tablespoons each of flour to help the cakes bind and nutritional yeast to add savory flavor. You can add herbs or spices, but frankly I like them just the way they are with a flavorful little sauce for dipping.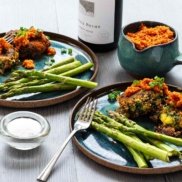 Baked Potato-Spinach Cakes
Recipe Notes
Ingredients
2

tablespoons

olive oil

3

garlic cloves

1

pound

fresh spinach

A generous 1 1/2 pounds potatoes

baked (1/3 of Baked Potato Base)

3

tablespoons

each: flour and nutritional yeast

Salt and ground black pepper

1

cup

panko bread crumbs

6

tablespoons

olive oil,

divided
Instructions
Heat oil and garlic in a large (12-inch) skillet over medium-high heat until garlic just starts to sizzle. Immediately add spinach and stir, scraping garlic into spinach, until spinach just wilts, a few minutes. Lightly salt and pepper the spinach and turn it onto a cutting board; coarsely chop.

Using a potato masher or a large fork, mash potatoes. (Small lumps are good.) Place potatoes, spinach, flour and yeast in a large bowl. Mix to combine. Taste and adjust seasoning, including salt and pepper to taste. Divide mixture into 8 portions and form into patties; dredge in panko.

Meanwhile, heat 3 tablespoons of oil in each of 2 medium (10-inch) skillets over medium-high heat. Add patties and cook, turning only once (and reducing heat to medium if cakes start browning too quickly), until golden brown on both side, 8 to 10 minutes total. Remove from pan and serve immediately.