Now that I am a Planetarian, there are many foods I try to avoid and continue to eliminate from my diet. Bacon is not one of them. But as you can see from the recipe below, I have developed Smoky Maple-Pepper Bacon, a tempeh-based alternative. While I continue to enjoy the occasional bacon, this plant-based version helps curb my "bacon tooth!" Unlike many of our Planetarian Life recipes that perfectly mimic the conventional dish, Smoky Maple-Pepper Bacon is not a dead ringer for real bacon, but it's still really, really good. I adore Smoky Maple-Pepper Bacon in a BLT, breakfast sandwich, and crumbled into hearty main-course salads and smooth, creamy soups and pasta dishes.
Each ingredient in the marinade plays a distinct role in making the tempeh taste very bacon-like. Soy sauce contributes salty savory-ness, olive oil adds pleasant richness, maple syrup offers a hit of sweetness, and liquid smoke infuses into the tempeh its distinct essence as does smoked paprika, whose deep rust color also gives the strips a bacon hue.
The only trick to making tempeh bacon is cutting it into thin slices. To pull this off, you'll need a good sharp knife.
The first step is simple—just halve an 8-ounce rectangle of tempeh into 2 square slabs. Next, cut each of the two slabs, crosswise, into 4 thin squares for a total of 8. The easiest way to transform slabs into slices is to work your way around the outer edge (think slicing a bagel). By the time you're all the way around, the first thin cut is nearly complete. Just slice through at the middle to release it. Repeat twice more for a total of 4 slices and repeat the procedure on the remaining slab. Stack the thins squares into 2 stacks of 4 and cut each stack into 4 thins strips for a total of 32 slices of tempeh bacon. If getting 4 thin squares is too challenging, just cut each slab into three thin squares for a total of 6 squares. If you only get 3 thin squares, you'll end up with 24 pieces. They won't be as crisp, but they're still good.
Keep in mind that the cuts don't have to be perfect. If some of the strips break, no worries.
Carefully place the strips in a loaf pan and pour in the marinade. Let them sit for just a few minutes or overnight, but the longer they sit, the more they absorb the marinade. When ready to bake the strips. Turn the oven to 350 degrees and line with parchment paper a baking sheet large enough to hold the strips—for me, that's a 13- by 9-inch rimmed baking sheet. The strips can be placed very close together. Brush any strips with marinade that doesn't seem well-coated and then generously sprinkle all the strips with pepper. Bake for 15 minutes and remove from the oven. Turn the strips over and brush with remaining marinade and sprinkle with several grinds of pepper. Return the pan to the oven to and continue to bake until tempeh is dry and impressively brown, about 15 minutes longer.
Now you've got crisp, flavorful plant-based "bacon" which you can freeze or refrigerate, and since it's fully cooked, it's ready to use.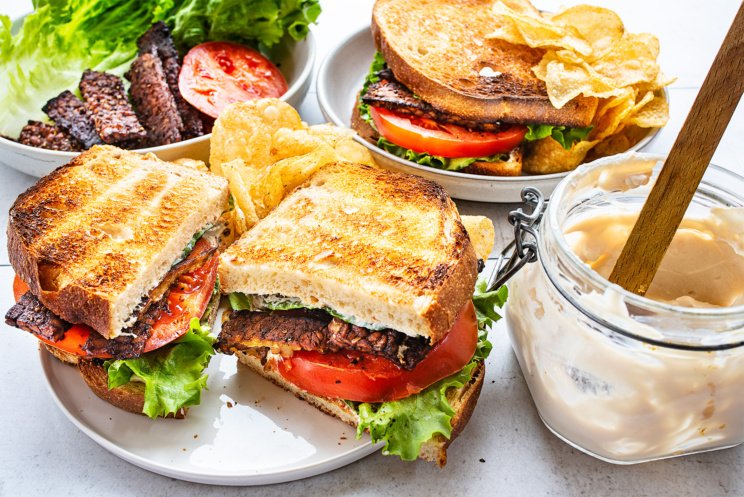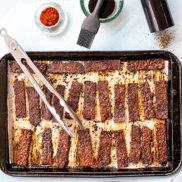 Smoky Maple-Pepper "Bacon"
Recipe Notes
Since I like making big batches at a time, I often double the recipe, making a pound of tempeh bacon. If so, use a large (18- by 12-inch) rimmed baking sheet and once the strips have been turned, increase the baking time from 15 to 25 minutes.
Ingredients
8

ounces

unflavored tempeh

3

tablespoons

soy sauce or liquid aminos

1

tablespoon

olive oil

1 1/2

tablespoons

maple syrup

1 1/2

teaspoons

each: liquid smoke and smoked paprika

Coarse ground black pepper
Instructions
Halve tempeh to make 2 squares. Cut each square crosswise into fourths to make a total of 8 thin slabs. Cut each slab lengthwise to make 32 strips. (Read text above for more slicing detail).

Carefully place strips in a loaf pan. Mix soy, oil, syrup, liquid smoke, and paprika in a small bowl; pour mixture over strips and let stand at least 5 minutes, occasionally moving pan around to ensure strips are getting coated. (Can sit in marinade overnight.)

When ready to bake, heat oven to 350 degrees, and line a 13- by 9-inch rimmed baking sheet with parchment. Place strips on prepared pan; brush mixture over strips that didn't get well coated and sprinkle generously with pepper.

Bake for 15 minutes; Remove from oven and turn tempeh. Brush with remaining marinade and sprinkle with additional pepper. Return pan to oven and continue to bake until strips are impressively crisp and brown, about 15 minutes longer. Remove from oven and serve. (Can be refrigerated or frozen for several weeks.)