When we talked about developing some fun ice creams for Planetarian Life, we realized that even though making plant-based ice cream is simple, you still need an ice cream freezer, which most people don't have. (And even if you do, it's a project, and therefore something you're not likely to make.) Our challenge was to develop amazing plant-based n'ice creams that didn't require an ice cream freezer.
After developing Easy Strawberry N'ice Cream, I turned my attention to one of my favorites—pistachio. I remembered creating an avocado-based ice cream a few years back. It was certainly the right color! I pulled up my old recipe and fiddled with it. To speed up the process and get the ice cream to chill faster, I mashed and froze the avocados—it doesn't take long!
After Strawberry and Pistachio we wanted to make a kid favorite so we developed a Chunky Monkey version. Finally, we rounded out the quartet of flavors with a plant-based Chocolate N'ice Cream made with an amazing, healthy, secret ingredient!
Developing the Perfect Texture & Flavor
I also found that mixing in the agave and vanilla before refrigerating the coconut milk prevents the coconut milk solids from hardening, insuring a smooth, silky texture.
In my research, one pistachio ice cream called for spirulina, a green superfood dietary supplement, to heighten the ice cream's color. I bought, I tried it, and I thought it completely unnecessary as the avocado alone gave it a beautiful green hue.
A small amount of almond extract reinforced the pistachio flavor—but a little goes a long way. A mere 1/4 teaspoon is distinctly pleasant.
I stirred in lots and lots of coarsely chopped pistachios, which made everyone who tasted it declare Pistachio N'Ice Cream…a huge success!
How Long to Freeze Pistachio N'Ice Cream
As with the other N'Ice Creams, depending on the temperature of the avocado and the coconut milk, it may be just right for scooping up straight from the blender, but it will likely need a little chill time. You'll probably have two to four hours to serve it before the ice cream starts to harden, at which point, you can simply soften it in the microwave on the defrost setting.
Unlike the others, this one is not ideal for throwing back in the blender with a little plant milk to return to its soft, creamy scoopable state. The pistachios get chopped a little too much for my tastes.
But if you don't mind the small bits of pistachios, you can turn Pistachio N'Ice Cream into a milkshake by blendering any leftovers with enough plant milk to give you a shake consistency.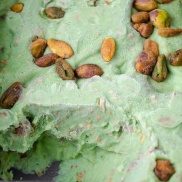 Easy Pistachio N'Ice Cream
Recipe Notes
Ingredients
1

can (13.5 oz)

full-fat coconut milk, chilled

1/2

cup

agave

1/4

teaspoon

almond extract

Pinch

salt

2

avocados,

halved, pitted, spooned from their shells, mashed, and frozen for 15 minutes

1

cup

coarsely chopped roasted pistachios
Instructions
Mix coconut milk, agave, almond extract, and salt and refrigerate for several hours or overnight. Purée avocado and coconut milk mixture in a blender until smooth. Turn into a medium bowl; fold in nuts. Freeze to chill, about a half hour. (Best eaten within a few hours, but it can be frozen in a sealed container for several days, let sit to soften before scooping.)