Sheet pan dinners are popular because they're a super easy, relatively hands-off way to get dinner on the table. The most successful sheet-pan dinners feature fish, poultry, or meat, along with a couple of side dishes that cook alongside, all getting done about the same time. The challenge with plant-rich sheet-pan cooking is that there isn't that piece of fish, chicken part, or cut of meat to anchor the meal, but we've done some research and testing to come up with some very tasty options.
The Basics
Our sheet pan dinners are not formulaic, but here's what they do have in common First, it's all about getting the dinner in and out of the oven as quickly as possible, so the roasting temperature is a super-charged 500-degree oven. At this temperature, you can cook most of the meal in twenty minutes flat. Some things, like green beans, will cook through in about ten minutes. Others—like potatoes and onions—take about ten minutes longer to caramelize and brown.
Our Favorite Sheet Pan Dinners
So that you get a sense of the sheet pan dinner flow, here are a few examples. In Sheet Pan Chimichurri Portabella Dinner, we roast portabella mushrooms, potatoes and onions, and Brussels sprouts. As with most vegetables, the portabellas will be done in 20 minutes, so, we take the the sheet pan out and remove the portabellas. In their place, add halved Brussels sprouts, which will cook in about 10 minutes. This gives the potatoes and onions extra time to not just cook, but to turn wonderfully brown.
In Roasted Sheet Pan Gnocchi with Mushroom-Feta Sauce, everything roasts together in twenty minutes. You'll have crisp and golden gnocchi on one side and a wonderful sauce on the other made from mushrooms, tomatoes, and feta.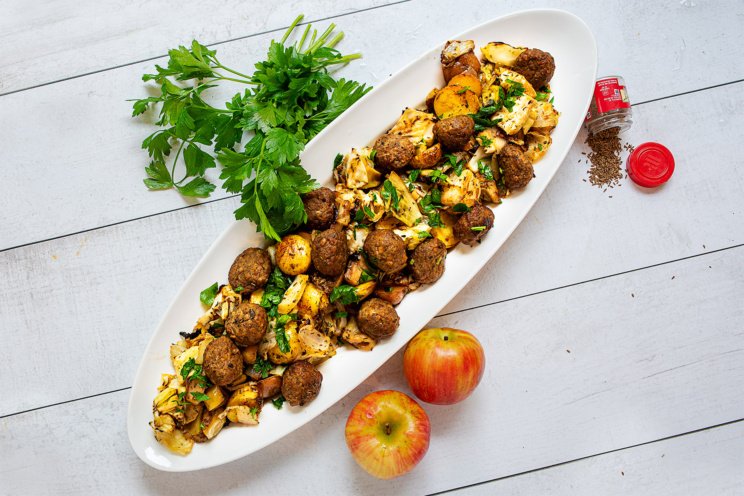 And in Sheet Pan "Meatballs" with Cabbage and Apples, we roast cabbage, apples, onions, and potatoes for a full thirty minutes, adding plant-based meatballs, which fully cook the last ten minutes of roasting.
Remember these two principles. The 500-degree roasting temperature means you can get dinner done as quickly as possible. The second is the 10-20-30 Rule. You can roast most ingredients in twenty minutes. Some (like green veggies) cook through in just 10 minutes. Others—like potatoes and onions—benefit from thirty minutes roasting time. With those two tips in mind, you can start to create your own sheet pan dinners.