Not that many years ago, roasted garlic was a fad. I remember thinking how useful and delicious and cool it was. I also remember how long it took to make. You'd start by cutting off the tip end of a whole garlic bulb and then wrap it in foil. From there it took an hour of oven energy just to roast a few heads of garlic. Once the garlic cooled, you'd squirt the soft roasted garlic paste from the cloves onto to olive oil-drizzled toasts. Delicious, for sure, but a lot of time and energy.
I discovered Quick "Roasted" Garlic back in 2005 when I was developing a recipe for Rosemary-Scented Pork Loin Stuffed with Roasted Garlic, Dried Apricots, and Cranberries for Perfect Recipes for Having People Over. Initially, I threw raw garlic cloves into the pork, along with the dried apricots and cranberries, before tying it up and roasting it, but since the loin only cooked to an internal temperature of 160 degrees, the garlic didn't really cook. If this roast was going to be garlic-stuffed, the garlic needed roasting first. No way was I going spend an hour roasting garlic before starting a recipe that would take yet another two hours.
15 Minutes
Instead, I threw whole garlic cloves into a pool of olive oil in a small skillet and very slowly poached the garlic in oil. It worked. I had roasted-like garlic in fifteen minutes, and with this method, there was an added bonus: aromatic garlic oil.
A few months ago, as we were preparing to make a white broccoli pizza, my nephew started to roast a whole head of garlic. It was then that I remembered my Quick "Roasted" Garlic technique, which was so and easy and flavorful that it instantly became one of our new favorite Essentials.
With peeled garlic available in nearly every decently stocked produce department, it's so easy to make. Simply pour garlic cloves into a small skillet with olive oil to cover, turn heat on low, and cook until cloves are soft and golden.
How to Use Quick "Roasted" Garlic
These days, we're using both garlic cloves and garlic oil in so many different ways. Garlic oil replaces olive oil in so much of our cooking. The cloves are delightful spread on toast, in tomato sauce, in vinaigrettes. Last week I added smashed cloves to the beans and rice I was making for bowls, and last night I added it to our Planetarian Cottage Pie filling. Consider using them in just about any recipe calling for minced garlic. The recipe makes a good bit, but it lasts for weeks. Besides, you'll use it up in no time.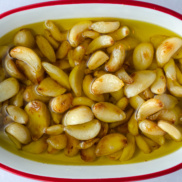 Quick "Roasted" Garlic
Recipe Notes
We use store-bought peeled garlic to make this recipe easier
Makes 1 cup garlic cloves and 3/4 cup garlic oil
Ingredients
1

cup

peeled garlic cloves

3/4

cup

olive oil
Instructions
Cook garlic and olive oil over medium heat in a small skillet until oil starts to bubble. Reduce heat to low and continue to cook until garlic cloves are soft and golden with spots of brown, about 10 minutes. Cool and pour into a jar. (Can be covered and refrigerated for a month or more.)