Serving a delicious seasonal green vegetable at Thanksgiving is hard. With so many dishes competing for your attention at the table, what's an ordinary green vegetable to do? Among the big bowls of mashed potatoes, stuffing, and gravy to choose from, who wants to make space for a steamed broccoli crown? Plus, there just aren't that many seasonal green vegetables in November, which is why, I guess, someone invented the green bean casserole—canned green beans, blanketed with canned cream of mushroom soup, and topped with canned fried onions.
I generally try to cook seasonally, but for the holidays I'm all about serving a green vegetable my grandkids will eat. These days, green beans are a year-round vegetable. Plenty of cooks have tried freshening up the green bean casserole, but we here at Planetarian Life have taken it one step further, making this holiday favorite colorful, bright, and dairy-free.
Dairy-free, Vegan, and Gluten-free Cream Sauce
It was no surprise that fresh mushrooms and canned coconut milk successfully took the place of a flour-thickened mushroom cream sauce. We found that additional flavorings like garlic, thyme, and lemon juice heightened the sauce's flavors.
Our planetarian green bean casserole requires a little more effort than the usual dump-and-stir- canned version, but we like that all of the components cook in the same skillet.
Green Bean Casserole the Planetarian Way
Start by steaming the green beans in a large skillet in a half cup of water, which takes very little time to come to a simmer. Cooked this way, you also preserve the freshness of the green beans and lose none of their flavor. Once the beans are cooked, dump them into a 13- by 9-inch casserole dish.
A nod to the fried onions, sauté onion slices next. You don't need to caramelize them, but it's nice for the onions to get a little color. Once they're cooked, add them to the green beans.
Now it's time to make the cream of mushroom soup. Start by returning that same skillet to the stove and sauté the mushrooms, flavoring them with garlic and thyme. Add the can of coconut milk and reduce it so that it's thick enough to coat the back of a spoon. At this point, taste it. You'll want the lemon juice to perk up the sauce, and you'll likely need a few pinches of salt and a couple grinds of pepper. Pour the sauce over the green beans and onions.
While the sauce is simmering, process your bread for fresh breadcrumbs and flavor them liberally. When dinner is getting close, top the casserole with the breadcrumbs and pop the dish in the oven. To get those crumbs an impressive brown, you'll want to turn the oven to broil the last couple of minutes. With all the last-minute dinner preparations, you may want to assign someone the task of watching the broiling process. You want those crumbs beautifully brown, not burnt!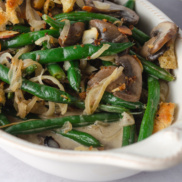 Green Bean Casserole- Fresh, Vegan, and GF
Recipe Notes
Fresh mushrooms, coconut milk, and lemon juice take the place of sour cream and canned cream of mushroom soup while lemon-thyme flavored breadcrumbs and almonds stand in for the usual store-bought fried onions, transforming this holiday favorite into a Planetarian classic.
Ingredients
1 1/2

pounds

green beans,

ends trimmed

Salt and ground black pepper

1/4

cup

olive oil,

divided

1

medium-large

onion,

halved and thinly sliced

1

pound

baby bella mushrooms,

sliced

4

cloves

garlic,

minced

1/2

teaspoon, plus a pinch

dried thyme leaves

1

can (13.5 oz)

full-fat coconut milk

1

tablespoon

juice and 1/2 teaspoon finely grated zest from 1 lemon

1

cup

fresh breadcrumbs

1/4

cup

sliced almonds

2

tablespoon

chopped fresh parsley
Instructions
Place beans, 1/2 cup water, and 1/2 teaspoon salt in a large skillet. Cover pan, turn burner on high, and cook until beans are bright green, al dente, and water has almost evaporated, about 7 minutes. Turn beans into a 13- by 9-inch baking dish and return skillet to the burner. Reduce heat to medium-high, add 1 tablespoon of olive oil and the onion, and sauté until tender and golden brown, 4 to 5 minutes; turn into the pan of green beans. Return skillet to the burner. Add 2 tablespoons of olive oil to the pan, along with the mushrooms; sauté until tender and most of the liquid has evaporated, about 5 minutes. Add 3 of the garlic cloves and 1/2 teaspoon thyme; cook to blend flavors, a minute longer. Add coconut milk and bring to a simmer; continue to cook until coconut milk has reduced to thin sauce consistency, about 5 minutes. Add lemon juice and adjust seasonings, including salt and pepper to taste. Pour sauce over green beans.

Meanwhile, mix remaining clove of garlic, breadcrumbs, almonds, parsley, lemon zest, a pinch of thyme and salt, and remaining tablespoon of oil; set aside. (Green bean dish and breadcrumbs can be covered and set aside at room temperature a couple of hours.)

A half hour before serving, adjust oven rack to middle position and heat oven to 400 degrees. Sprinkle breadcrumbs over green bean dish and bake until heated through 10 to 12 minutes. Turn oven to broil and continue to cook until breadcrumbs are crisp and brown, a couple of minutes longer. (It will not take long, so keep an eye out to ensure crumbs do not burn.)