This is the simplest, most delicious mixed berry sauce – and the best part is? You can use any berry, fresh or frozen fruit, in any combination. You'll want put it on everything from oatmeal and pancakes to ice cream and rice pudding. This sauce elevates any dish it touches.
In the spring and summer, we have a local farm near my parent's house where we pick strawberries in June, blueberries and raspberries in July, and blackberries in August. It is always one of the great joys of summer. They're so fresh and sweet, we mostly just eat them by the handful like candy. Then we take some of the gorgeous berries along with the squishy ones at the bottom of the barrel and turn them into this mixed berry sauce.
In the colder months, when we have a hankering for this Mixed Berry Sauce, we use frozen fruit which is often better for the environment than using fresh. Delicate produce, like berries and green beans, have a short shelf-life so they must be transported quickly by air to make it onto grocery store shelves before they spoil. Hardier produce, like apples and potatoes, have a much longer shelf life, so they travel by boat – which has a much smaller carbon footprint than an airplane. Like hardy produce, frozen fruit also has a much longer life and often travels by boat.
What berries will work?
You can use any berry
Blueberries
Strawberries
Raspberries
Blackberries
Don't tell the berries, but this sauce works equally well with peaches, nectarines, plums, cherries, or any soft fruit.
What to put mixed berry sauce on?
Use this sauce to top pancakes and waffles or stir it into a bowl of oatmeal or a jar of our Overnight Oats. In my opinion it is best enjoyed atop our Breakfast Coconut Rice Pudding. Though it is also very good with plant-based (or dairy) ice cream and yogurt.
How long does mixed berry sauce last?
This Mixed Berry Sauce will last a couple weeks in the fridge. Though, being honest, we've never had a jar last more than a couple days because we love it so much.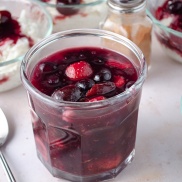 Mixed Berry Sauce
Recipe Notes
Mixed Berry Sauce is perfect—warm or chilled—over Breakfast Rice Pudding, but you can also serve this sauce warm over pancakes or waffles or chilled over ice cream or yogurt, the list goes on!
Ingredients
4

cups

fresh or frozen berries

your choice (for strawberries, halve if small, quarter if large)

1/4

cup

maple syrup or agave

1

teaspoon

orange zest

2

tablespoons

cornstarch dissolved in 1 tablespoon water.
Instructions
Heat berries, agave, zest, and ½ cup water in a small Dutch oven. When mixture starts to simmer, whisk in corn starch mixture. Continue to simmer until mixture thickens to sauce consistency.