This recipe is what we call a "Jumpstarter," because it's made from one of our bases, Pot of Rice. With a pot of rice made, you've got a jumpstart on multiple meals including this Coconut Rice Pudding! If you're just making enough rice for Rice Pudding, you can use this recipe for a single, Perfect Pot of Rice.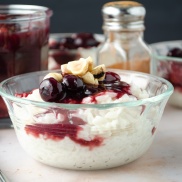 Breakfast Coconut Rice Pudding
Recipe Notes
We love this coconut rice pudding – it can be served hot, warm, or room temp, depending on the season. You can add 1/2 teaspoon of cinnamon and/or a 1/2 teaspoon ground cardamom if you enjoy these warm spices. Reserve a couple of tablespoons of the coconut milk to drizzle over the puddings for a little flair.
Mixed Berry Sauce comes together very quickly, especially if you use raspberries, blackberries, or blueberries which require no prep, but if you don't have time to make it, top puddings with your favorite fruit and nut combination and a big splash of milk. Some of our favorites: blueberry and toasted walnuts, raspberry or strawberry and toasted almonds, chopped apples or peaches and toasted pecans.
Ingredients
1

can (15-16 oz)

coconut milk

3

tablespoons

maple syrup or agave

4

cups

cooked rice (here's our recipe: Pot of Rice)

1

teaspoon

vanilla extract

Mixed Berry Sauce,

optional

1/4

cup

chopped toasted nuts

(your choice)
Instructions
Bring coconut milk, maple syrup, rice, and 1 cup of water to simmer in a large saucepan over medium-high heat. Reduce heat to medium-low, and cook, stirring frequently, until rice thickens to pudding consistency, 6 to 8 minutes. Stir in vanilla and serve immediately with Mixed Berry Sauce or other toppings (see note above).