This week we wanted to shake up your pasta game with a Planetarian alfredo sauce. Most plant-based alfredo starts with raw nuts, so we tested several different highly-rated recipes that called for cashews and walnuts. The walnuts make a creamy and distinctly nutty sauce (which we loved). But to avoid an unappetizing, bruisy-colored sauce you have to soak the walnuts overnight. Sometimes you can plan ahead and remember to soak nuts, but we wanted a throw-it-together-fast recipe.
Raw cashews require no pre-soak and create a silkier, more authentic alfredo. However, I've become more mindful about eating cashews, not because of their environmental impact but because of the human cost in processing them. If you're interested, here is a well done, but brief interactive on the cashew industry. Like everything with Planetarian Life, this doesn't mean you should never eat cashews again, it's just good to be aware and perhaps consider an alternative if one exists.
So, we were interested in finding a base that didn't start with nuts, and the humble cauliflower proved to be our hero. This sauce comes together in about ten minutes and our whole family – kids especially – inhaled it several nights in a row (you know how we test!).
Using Fresh Cauliflower
This recipe calls for frozen riced cauliflower, but you can also use fresh cauliflower. Simply break 1 pound of cauliflower into small florets and either pulse it in a food processor or hand chop it to riced consistency. Place in a large skillet with 1/2 cup of water. Cover, bring to a boil, and continue to cook until cauliflower is tender, 5 to 7 minutes, making sure water does not completely evaporate. Transfer cauliflower to a bowl, return skillet to the burner, and continue with the recipe.
Vegetable Alfredo
To make this pasta dish a complete meal, toss in a vegetable! Frozen green peas are an especially easy choice—just add them to the pasta the last few minutes of cooking. Steam/sautéed Brussels sprouts, cubed butternut squash, or broccoli florets are also good candidates. Once you've transferred the cauliflower mixture to the blender, rinse the skillet, steam/sauté the vegetable, and toss them with the pasta and sauce.
Make Soup with Leftovers!
You should have about 1 cup of leftover sauce, which you can easily turn into a bowl of soup. Just add vegetable broth to the sauce until it's soup consistency.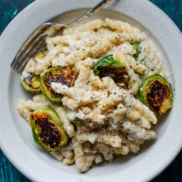 Velvety Cauliflower Alfredo
Recipe Notes
A delicious plant-based, dairy-free alfredo made with cauliflower that is every bit as satisfying as the original - and it comes together in 15-minutes!
Ingredients
2

tablespoons

olive oil

1

large

onion,

diced

3

cloves

garlic,

minced

1

pound

frozen riced cauliflower,

thawed

2

tablespoons

nutritional yeast

(or substitute 1/2 cup grated parmesan cheese, regular or vegan, per 2 tablespoons nutritional yeast)

1/8

teaspoon

nutmeg

1

can (13.5 ounces)

full-fat coconut milk

salt and pepper,

to taste

1

pound

pasta,

any shape
Instructions
Heat oil in a large skillet over medium-high heat. Add onions; sauté until nearly tender, about 4 minutes. Add garlic and continue to sauté another minute or so. Add cauliflower, nutritional yeast, and nutmeg; cook until most of the liquid has evaporated and flavors blend, 4 to 5 minutes longer. (Fresh cauliflower will need less cooking time.)

Transfer mixture to a blender; add coconut milk and puree until smooth. Adjust seasonings, including salt and pepper to taste.

Meanwhile, heat a generous 2 quarts of water and 1 tablespoon of salt in a large pot. Add pasta and, using package cooking times as a guide, cook until al dente. Reserving 1 cup of cooking liquid, drain pasta and return to the pot. Add 3 cups of the alfredo sauce and toss, adding cooking liquid as needed until pasta is creamy and well-coated. Serve immediately with parmesan, regular or vegan, if desired.