To develop ways to use Roasted Spring Vegetables, I started by roasting a couple of pans of them. I had picked off a few asparagus spears to serve with vinaigrette as a first-course salad for dinner one night. And I cubed some of the potatoes for home fries for breakfast, but I still had a massive container of roasted vegetables just begging to be used. This Heat-and-Eat Leek and Potato Soup, like so many great recipes, was born of necessity… and hunger.
How Leek and Potato Soup Came To Be
And so it was that a couple of days ago, David and I were in need of lunch pronto, and there wasn't much around except leftover Roasted Spring Vegetables. He was standing there observing me try to figure out what I could make quickly. So, he witnessed this recipe develop in real time. As he watched the light bulb go off, and I began the lightning-quick execution, he was in awe.
At a dinner party a couple of days after I had made my maiden pot, he was still awestruck as he recounted the story. "She just put roasted potatoes in the soup pot and used a potato masher to crush them, then she chopped some roasted leeks and threw them in the pot, along with a couple of cups of broth and a can of coconut milk. It couldn't have been more than eight minutes and we were eating lunch." (He did not notice the bit of dried tarragon I added along the way.)
All About the Finishing Touches
I didn't take the time to garnish the soup at our hurried lunch. But when I made it again, I snipped a few chives over each bowl. I really liked the conversation between the meaty chunks of soft, sweet leeks and the bright bite of the fresh greens chives. Of course, scallions are more readily available and cheaper, but if you grow chives, take the time and head to the garden to clip a few. And if you can afford them, we think it's worth it.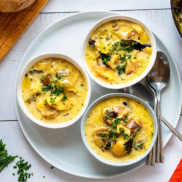 Heat-and-Eat Leek and Potato Soup
Recipe Notes
Makes about scant 2 quarts to serve 3-4 as a meal and 6-8 as a first course.
For a pretty garnish, sprinkle the soup with thinly sliced scallions or a little chopped fresh parsley.
Ingredients
1/2

the potatoes (about 2 cups) and all of the leeks (about 1 1/4 cups) from Roasted Spring Vegetables

2

cups

broth,

your choice

1

can (13.5 oz)

regular coconut milk

1

teaspoon

dried tarragon
Instructions
Heat a soup kettle over medium-high heat. Add potatoes and crush with a potato masher or large serving fork. Cut leeks into medium dice and add them to the pot, along with the broth, coconut milk, and tarragon. Bring to a simmer. Serve.