Back in 2002, Mom developed what we thought was the ultimate Caesar Salad. She replaced the raw egg in the classic dish with a dollop of mayonnaise. And by whirring garlic cloves with olive oil in the food processor, she reduced the time it takes to make garlic oil for frying the croutons from a few days down to a few minutes.
Her salad had all the good qualities of the original Caesar. First tossing whole hearts of Romaine leaves with olive oil, then dressing them with a drizzle of lemon juice, mayo and Worcestershire. There was a third toss of grated Parmesan. And finally, there was the addition of warm garlicky croutons. Once the salad was carefully plated, someone went around the table with a vegetable peeler and hunk of Parmigiano-Reggiano and shaved curls over the top. It was a big production.
For that reason, it became an Anderson family classic, one of those special occasion regulars when my sister and I were young teens. It always made its way onto the "Please make…" list we'd send Mom before we came home from college and for special birthday dinners.
Making Caesar Salad Planetarian
In developing Caesar Salad for Planetarian Life, we wanted to do two things: to simplify the salad so we could enjoy every day and to see if we could shift this classic a little more into the plant-based category.
So, we set out to planetize and simplify the Caesar Salad of my youth. Instead of hearts of Romaine, we use two kinds of greens, Massaged Kale and butter lettuce, to give the salad more textural and color contrast. Pita chips take the place of the garlicky croutons, making it doable for weeknight dinner, not just special occasions.
Instead of the three-step tossing process, we blended all of the ingredients together to make one dressing. We swapped regular mayonnaise for the vegan variety—no compromise in flavor here. We also subbed in Quick "Roasted" Garlic for fresh. The roasted garlic gave extra body to the dressing as well as eliminated the bite (and breath) you get eating raw garlic.  Finally, we replaced some—but not all–of the Parmesan cheese with nutritional yeast.
For those very special occasions, we may plead with Mom to make the original, but for the remainder of the year, we're very happy with this new Planetarian version.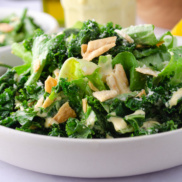 Planetarian Caesar Salad
Recipe Notes
Serves 4 as a main course or 8 as a side dish.
Ingredients
4

cups

each: chopped massaged kale and soft lettuce

(such as butter, green leaf, or Romaine)

Salt and ground black pepper

2

generous cups

pita chips,

crumbled
Instructions
Place kale and lettuce in a large bowl. Add 1/2 cup (or to taste) Planetarian Caesar Dressing; toss to coat. Taste and adjust seasonings including salt and pepper. Add pita chips; toss to coat again. Serve.