In Planetizing Mom's Caesar Salad, the biggest change we made was to this dressing. To start, we eliminated the three-step tossing process in classic Caesar salad, and instead blended all of the ingredients together to make one dressing.
To make the dressing more plant based, we subbed vegan mayonnaise for the conventional variety. Our second swap was reducing the Parmesan cheese by half and replacing it with nutritional yeast. Finally, we used roasted garlic instead of raw, which gives the dressing wonderful body, and it's milder flavor means you don't taste it for the rest of the day.
Many Caesar salad recipes call for anchovies, but from our research, the only anchovy flavoring in the salad comes from the Worcestershire sauce. Because anchovies are used to make conventional sauce, you may decide to purchase vegan Worcestershire. Either way, don't leave out this critical flavoring. Right out of the blender, the nutritional yeast flavor is more pronounced, but within minutes, the Parmesan cheese flavor takes the lead.
How Else to Use Caesar Dressing
This dressing is not just for flavoring salad greens. It's thick enough to serve as a dip for crudité, yet thin enough to drizzle over steamed vegetables. The dressing can be refrigerated at least a couple of weeks, so we've increased the yield. We know you're going to want leftovers!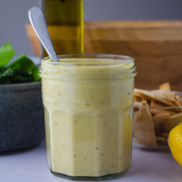 Planetarian Caesar Dressing
Recipe Notes
If you're using nutritional yeast only, stick with a quarter cup - no need to double the amount - the flavor is too potent. And if you don't make the roasted garlic (which you should), simply sub in one minced garlic clove.
Ingredients
5

tablespoons

lemon juice

1/4

cup

vegan mayonnaise

1

tablespoon

roasted garlic cloves

1

teaspoon

Worcestershire sauce

1/4

cup

each: finely grated Parmesan and nutritional yeast

1/2

cup

olive oil

Salt and ground black pepper
Instructions
Place all ingredients in a blender; process until creamy smooth. Refrigerate in a covered container until ready to use. (Can be refrigerated for at least a couple of weeks.)