It was 2008, and  I was still living in England. I had fallen in love with baking and was just getting into food blogs when my friend Steph sent me the link to this vegan pumpkin bread recipe. At that time, I knew what it meant to be vegan, but I had yet to embrace the plant-based lifestyle. At that time Julie Potter's Blue Ribbon Pumpkin Bread was my go-to recipe, and I would never have made this dairy-free version had my friend not insisted I try it. With Steph's endorsement and coconut milk in the ingredient list, I was intrigued.
I'm glad I gave it a try because I found this loaf was as rich, moist, and flavorful as my regular recipe, and yet it was achieved without butter and eggs. It got me thinking, "Might other dishes be equally good without dairy?" Thirteen years later and this recipe has stuck with me because it was the first to spark a subtle paradigm shift within me.
Pumpkin & Spice
What stands out about the original pumpkin bread recipe is the very clever use of coconut milk. You'd think the coconut would distinctly flavor the bread, but it only manifests itself in the moist, velvety texture. The bread tastes distinctly of pumpkin and spice. We added oats, bumped up the spice, and used white whole wheat. The result–at least to me–is Planetarian perfection.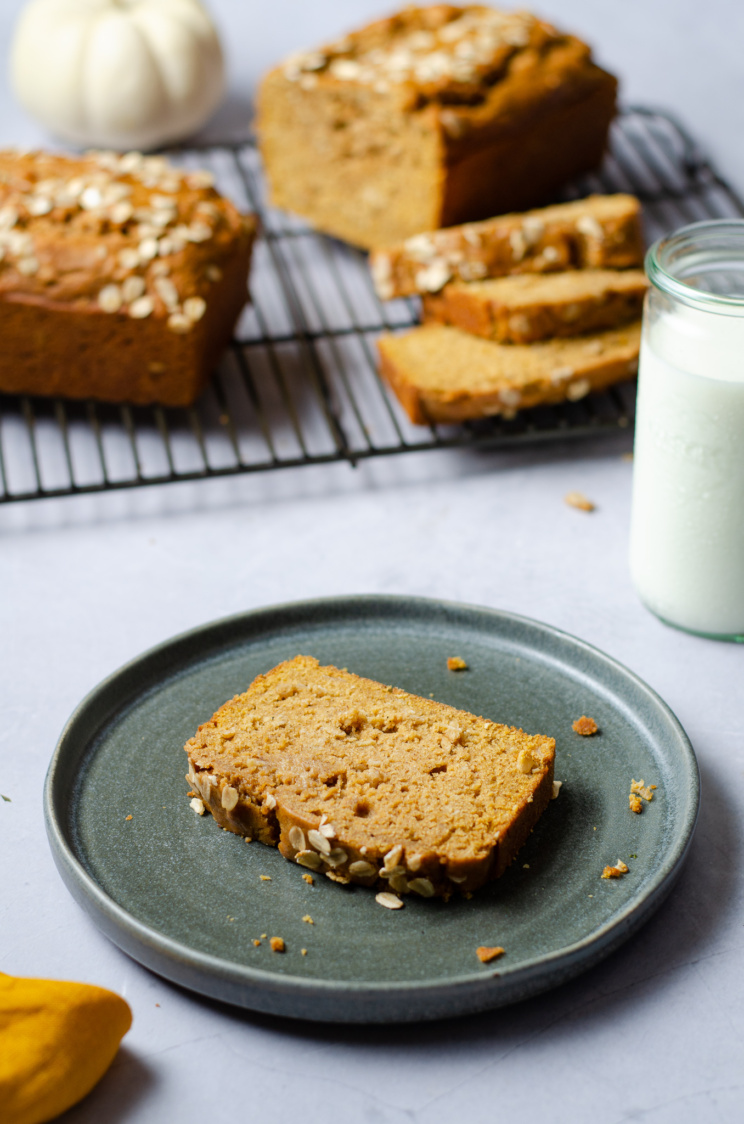 What Kind of Flour for Pumpkin Bread
This pumpkin bread recipe calls for white whole wheat, a flour ground from hard white wheat compared with regular whole wheat flour, ground from hard red wheat. Both white and regular whole wheat flours contain the bran, germ, and endosperm, but white whole wheat is lighter in color and has a milder flavor. You can use white whole wheat to make this pumpkin bread, but we've also made it with regular unbleached all-purpose flour and found that it works works just fine.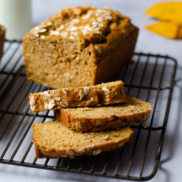 Planetarian Pumpkin Bread
Recipe Notes
You can also use canned sweet potato for this recipe, and it tastes almost identical!
Ingredients
3½

cups

white whole wheat flour or unbleached all-purpose flour

1

cup

old-fashioned oats,

plus extra for sprinkling

1

tablespoon

baking powder

2

teaspoons

each: ground ginger and cinnamon

1

teaspoon

each: baking soda and salt

½

teaspoon

ground cloves

1

can (13.5 oz)

coconut milk

1

can (15 oz)

pure pumpkin (or sweet potato)

¾

cup

coconut oil, melted (or vegetable oil)

2

cups

brown sugar
Instructions
Grease two 9- x 5- inch loaf pans. Adjust over rack to lower-middle position and heat oven to 350 degrees. Mix flour, oats, baking powder, ginger, cinnamon, baking soda, salt, and cloves in a large bowl.

Meanwhile, whisk coconut milk, pumpkin, coconut oil, and brown sugar in a medium bowl. Beat wet ingredients into dry ingredients until smooth; divide evenly between prepared pans and sprinkle with extra oats.

Bake until golden brown and a cake taster comes out clean, about 55-60 minutes. Remove from oven, let cool for a few minutes. Run a knife around the pan to loosen the bread and then turn onto a wire rack to cool completely.