We adore Greek-style gyros and Middle Eastern-style falafel wraps, but up until now, our experience had been mostly eat-in or take-out at specialty restaurants and shops. "A job better left to the pros," we thought. But as we started exploring more plant-based sandwich options, learning to make these wraps ourselves started to make sense.
Of course, with its chickpea-based patties and tahini-based dressing, falafel are naturally plant-based. As we quickly discovered, making the patties are actually quite easy. It's the stress and mess of deep frying that's the challenge. Was there another equally good cooking method?
Baking vs. Frying
Since most authentic falafel recipes instructed to deep-fry, we started there. They fried up evenly brown and wonderfully crisp, but then there was all of that oil to be strained and saved—a real barrier for many cooks.
Fortunately, we found falafel didn't need to be deep-fried to be good. Two other methods worked well. Pan-frying the falafel resulted in crisp, rich brown patties, reducing the oil from a whopping 1 1/2 quarts to a mere 1 1/2 cups. You just need the pan's oil level to come halfway up the patties' sides, so that when they're flipped, they're crisp and golden brown all over.
Baking is an option too. If you set an oil-coated rimmed baking sheet in the preheating oven and then set the patties on the preheated pan, they bake up impressively brown as well.
Falafel Wraps
Coupled with our dairy-free tzatziki, our falafel make a pretty mean stand-in for the usual lamb in a classic gyro. Whether you make these wraps Middle Eastern style with tahini dressing or gyros style with tzatziki, enjoy these plant-based sandwiches.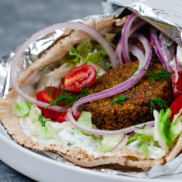 Falafel Wraps
Recipe Notes
If you use the fresh dill in the Tzatziki, chop a little extra and sprinkle it over the sandwiches.
Instructions
Bake or pan-fry falafel and make Planetarian Tzatziki or Tahini Dressing.

When ready to serve, spread desired amount of Tzatziki or Tahini over each pita. Scatter a portion of lettuce, tomato and onion over each pita. Line 2 or 3 falafel down the middle and serve, letting each person fold their own wrap and serving any extra tzatziki or tahini dressing passed separately