We love savory breakfast, but without meat and eggs, they're hard to come by. We eat things like Tofu Scrambled "Eggs" and tomato toast, oatmeal and grits – but we often add vegetarian Morning Star Breakfast Patties to bulk out our breakfasts. Our version of meatless breakfast "sausage" is nearly as good (and every bit as savory and satisfying) as the ones we've been buying. With the addition of smoked paprika, fennel, sage, and onion, there's a lot of 'meaty' flavor. And the tofu and the ground macadamias make them hearty and rich in protein. We serve them with Dijon mustard and ketchup alongside anything from pancakes to grits. They are also great in a breakfast sandwich!
What's in these breakfast "sausage" patties? 
We are big fans of Beyond and Impossible Meat, but some people aren't because of the longer ingredient list. What's great about this satisfying sausage alternative is that they are made with just 9 ingredients (3 of which are spices)
 

1 cup roasted, salted macadamia nuts (or almonds)

 

2 cups cooked white or light brown medium grain rice

 

1 package (14 to 16 ounces) extra-firm tofu, drained and crumbled

 

1/4 cup soy sauce

 

2 teaspoons

each

: finely chopped fennel seeds, rubbed sage, and smoked paprika

 

1 medium-large coarsely grated onion

 

1 cup ground flaxseed

or

chia seeds
When to make them
Most of our recipes are super-easy and quick, this one is also super-easy, but it takes just a little bit more time. But our recipes yields 24 patties, so you're not just making a recipe for one meal (unless you have a huge, hungry family or you're serving brunch) – you're making for a few meals. They store perfectly in the freezer for months. And you'll always have a protein-backed breakfast option at the ready.
How to cook them
To make this Meatless Breakfast "Sausage," prepare and mix the ingredients, form into patties, then bake them on a silpat-lined baking sheet at 350 for 25 minutes. At this point, you can either cook them up or store them in the fridge or freezer. When you're ready to eat these Meatless Breakfast "Sausage" Patties, just heat a pan with enough olive oil to coat the bottom, and cook until impressive brown on both sides.
What to serve breakfast "sausage" patties with
These patties are great served with a little ketchup and mustard alongside pancakes, waffles, or any fun weekend brunch-type food. But we also enjoy them in breakfast sandwiches or on their own with a piece of toast and fruit. Some of our recipe testers even fried up a couple to have for lunch with a salad.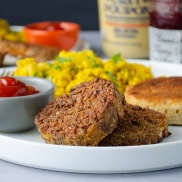 Meatless Breakfast "Sausage" Patties
Recipe Notes
If you've got cooked rice on hand, these patties come together super quick. Need to make rice? See our recipe for Perfect Pot of Rice. This will make a bit more than you need for this recipe, but you can use the leftovers for another purpose.
To give these patties a little spice, add 1/2 teaspoon hot red pepper flakes with the spices. If you like, substitute 2 tablespoons chopped fresh sage for the dried. If you can't find ground flaxseed, chia seed is a good substitute
Ingredients
1

cup

roasted, salted macadamias (or almonds)

2

cups

cooked white or light brown medium grain rice

1

package (14-16 oz)

extra-firm tofu,

drained and crumbled

1/4

cup

soy sauce

2

teaspoons

each: finely chopped fennel seeds,

rubbed sage, and smoked paprika

1

medium-large

coarsely grated onion

1

cup

ground flaxseed or chia seeds
Instructions
Adjust oven rack to center position and heat oven to 350 degrees. Finely grind macadamias in a food processor or blender. Add 1 1/2 cups of the rice, 1/2 the tofu, soy sauce, fennel, sage, and smoked paprika; continue to process to a paste. Turn into a large bowl. Stir in onion, flaxseed and remaining rice and tofu; stir to combine. Let the mix rest for 10 minutes for liquid to absorb.

Divide mixture into 24 scant 1/4 cup portions; flatten each portion into 2-inch patties and place on a silpat- or parchment-lined large rimmed baking sheet. Bake until firm and golden brown, about 30 minutes. Alternatively, you can turn the mixture onto a large sheet of bees wax wrap and roll into an 18-inch log. Remove wrap and cut the log in half, then cut each half into 12 pieces for a total of 24 patties. (Can be cooled and refrigerated in a covered container up to a week or frozen for several months.)

The number of patties you cook will determine the size pan and amount of oil you'll need. You can cook 7 to 10 patties in a 12-inch skillet, 4 to 6 patties in a 10-inch skillet, and 2 to 3 patties in a small skillet. For the large skillet use 2 tablespoons of oil. For the medium skillet use 1 tablespoon of oil, and for the small skillet figure 1 1/2 teaspoons of oil. You need a generous coating of oil in the pan for the patties to properly brown.

To fry the patties, heat oil over medium-high heat in the appropriate size pan. Add patties and cook until crisp and brown on side, 3 to 5 minutes. Reduce heat to medium, turn the patties over and continue to cook until crisp and brown on the second side, 3 to 5 minutes longer. Serve with ketchup and mustard or other sauces.