A few weeks ago my friends in London (who are in this group) were sharing recipes from a favorite vegan cookbook. I bought it immediately and when it arrived, I asked them "What should I make first?!" They recommended the lentil-walnut tacos. We had used lentils in a similar way before, but the addition of the walnuts is inspired. It adds chew as well as extra fat and protein so you're full for longer. The recipe was really good, but even they agreed – the flavor needed amping up.
Mom and I started by working on the lentil-walnut base, simplifying the preparation, and also using a pound of lentils. The original recipe called for 3/4 cup of lentils, but the filling keeps well in the fridge and even freezes, why not make extra for another meal?
We started by using the Lentil-Walnut Mix Base for Mom's classic sloppy joe recipe – questionable name, delicious sandwich that all will love. Then we took the base, added spices and salsa, and made a delicious taco filling that I will probably make every week for eternity. We have used it in tacos, nachos, burritos, and tamale pie, and it's particularly delicious tossed into a Southwestern-vibe salad.
Feel free to cook up a half recipe of the Lentil-Walnut Mix Base and make either recipe, but why not set yourself up for another meal later? This is what would be categorized as a Strategy in the Capsule Kitchen – a way to make getting meals on the table easier. When you cook like this, a good meal is never far away.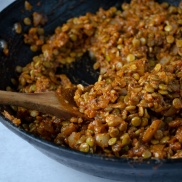 Lentil-Walnut Sloppy Joe Filling
Recipe Notes
Ingredients
2

tablespoons

olive oil

1

medium-large

onion,

cut into small dice

1

cup

ketchup

1/4

cup

Dijon mustard

2

tablespoons

soy sauce

2

tablespoons

brown sugar

1

tablespoon

Worcestershire sauce

1

teaspoon

garlic powder

1/2

recipe

Lentil-Walnut Mix Base (see below) (1/2 recipe is about 4 - 4 1/2 cups)
Instructions
Heat oil in a large skillet over medium-high heat. Add onions and sauté until translucent, 3 to 4 minutes. Add remaining ingredients and 1/4 cup of water; cook until mixture thickens slightly and darkens in color, 2 to 3 minutes. Stir in Lentil-Walnut Mix; cook to heat through a couple of minutes longer. Serve.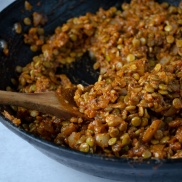 Lentil-Walnut Mix Base
Yield:
3
pounds (about 9 cups)
Recipe Notes
You can toast the walnuts one of two ways. You can toast them in the oven (a toaster oven is ideal for small quantities of nuts) at 325 degrees until fragrant and slightly darker in color, about 10 minutes. If you watch them carefully, you can also toast them stovetop in a large skillet over low heat, stirring frequently, until fragrant and slightly darker in color, 10 to 15 minutes. Don't be tempted to increase the heat—you'll be sorry!
You can chop the walnuts in the food processor-just pulse in short bursts until they are finely chopped, but not ground.
Ingredients
1

pound

regular brown lentils

Salt

3

cups

walnuts,

toasted and finely chopped
Instructions
Soak lentils in 6 cups of cold water and 1 tablespoon of salt for 4 hours and up to 24 hours.

Drain lentils and turn them into a large (12-inch) skillet with 1 cup of water. Cover and bring to full boil over high heat; reduce heat to medium-high and continue to cook, covered, until water has mostly evaporated and lentils are just cooked through, 3 to 4 minutes. Remove from heat and let stand, covered, a minute or so longer.

Mix lentils and walnuts and proceed with any Lentil-Walnut Mix Jumpstart recipes. Can be refrigerated up to a week or frozen for a couple of months.