A common method for getting an impressive coating on fried foods is what we call the dredge-dip-dredge method. Our technique for Cauliflower "Wings" with an array of dipping sauces is no exception.
The Dip-Dredge-Dip Method
This recipe starts with the cauliflower's quick dunk in a hot bath. This not only jumpstarts the cooking and seasoning process, but also creates a consistently moist surface for the flour from the first dredge to adhere. The first dredge in seasoned flour when combined with a dip in plant-based creamer mimicking buttermilk, creates exceptional culinary glue. The seasoned flour from the second dredge adheres to this glue to form an extraordinarily thick coating. When fried, the coating becomes impressively crispy. This dredge-dip-dredge method can be done several hours before frying, making it possible to get most of the prep and cleanup out of the way before the final step. Setting the coated cauliflower on a wire rack set over a rimmed baking sheet prevents the cauliflower coating from getting soggy.
Frying Cauliflower "Wings"
About a half hour before frying, heat the oil in a large pot to 350 degrees. You want the heat at strong medium to light medium-high. There's no way to fry the cauliflower in one round without overcrowding the pan, so add about half the cauliflower to the pot and fry the florets to an impressive golden brown. Since you're not working with poultry and dairy, there's no worry of contamination, so you can return the fried florets to the same wire rack set over the rimmed baking sheet. With half a batch fried, repeat the cooking process.
To keep the florets warm and crisp while the second batch is frying, set the baking sheet in a warm (150 to 200 degrees F) oven —just remember to keep the oven door cracked to prevent steaming. The eight-minute cooking process is so quick, however, that the first batch is just cooling to an edible temperature by the time the second batch is ready to pull from the fryer.
An Array of Dipping Sauces
Serve these fried cauliflower florets with one or more of the dipping sauces. Buffalo Wing, Barbecue, and Honey Mustard Dipping Sauces are super simple. The Herbaceous Ranch Dressing requires a little more effort but there will be plenty left over for dressing salads later in the week.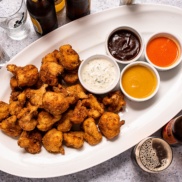 Cauliflower "Wings"
Yield:
4
people as a main, 8 as an appetizer
Recipe Notes
Ingredients
Salt

1

large head

cauliflower,

broken into medium florets leaving stems intact

1

cup

unflavored creamer.

such as oat

1

tablespoon

each: cider vinegar and nutritional yeast

1

tablespoon

Old Bay Seasoning,

divided

2

teaspoons

ground black pepper,

divided

3

cups

all-purpose flour

1 1/2

quarts

neutral oil,

such as peanut or grapeseed oil, for frying
Instructions
Bring 3 quarts of water and 4 teaspoons of salt to boil in a large pot. Add cauliflower florets, set the timer for 2 minutes and cook to blanch, or partially cook; Drain immediately, run under cold water, and turn cauliflower onto a wire rack set over a rimmed baking sheet.

Mix creamer, vinegar, nutritional yeast, 1 teaspoon Old Bay and 1/2 teaspoon each salt and black pepper in a medium bowl; set aside

Mix flour, 2 teaspoons Old Bay, and 1 1/2 teaspoons each salt, pepper in a large paper or thick plastic bag.

Working a couple pieces at a time, drop florets into the bag, shake to coat, and return to wire rack. (Can be stand at room temperature several hours before frying.)

When ready to fry, heat oil to 350 degrees in a large (12-inch) skillet. Working a couple florets at a time, dip them into the creamer mixture and then drop them in the flour mixture, shaking to coat again with flour.

Working in 2 batches to avoid overcrowding, fry florets until golden brown, turning as needed to brown evenly, about 8 minutes per batch. Transfer florets back to wire rack as they are done.

Serve immediately with one or all of the dipping sauces below.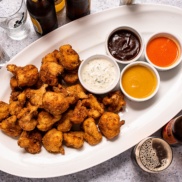 "Wings" Dipping Sauces
Recipe Notes
Ingredients
Barbecue Dipping Sauce
1/2

cup

your favorite barbecue sauce (we like Stubb's)
Honey Mustard Dipping Sauce
6

tablespoons

Dijon mustard

3

tablesppons

honey
Buffalo "Wing" Sauce
1/2

cup

each: plant butter and hot pepper sauce, such as Cholula, Frank's or Crystal

1

teaspoon

garlic powder
Instructions
Barbecue Dipping Sauce
Thin barbecue sauce with water to dipping sauce consistency. (For us that was a generous tablespoon.) Serve.
Honey Mustard Dipping Sauce
Whisk mustard and honey together and serve.
Herbaceous Ranch Dressing
Buffalo "Wing" Sauce
Heat all ingredients over medium-low heat in a small saucepan, whisking to blend, until butter melts and sauce has heated through. (Can be made several days ahead. Reheat before serving.)