---
This is a Variation on a Root Formula, a simplified recipe that shows which ingredients
are core and which can be changed to create different flavor combinations or use what you
have on hand. See our other variations at the bottom of the Root Formula page.
---
Last year I created a kitchen survey. I wanted to know more about how people shop, cook, and eat. One unsurprising thing I learned is that most people don't eat a full breakfast – a piece of toast, an energy bar on-the-go, mostly it's just coffee with a little something for the left hand. A piece of toast will fit the bill just fine. Of those who took the survey who do eat breakfast, the number one meal was eggs. So, we felt like the time had come to share our family's Tofu Scrambled "Eggs" with you. We spent a good bit of time perfecting this recipe. No, it doesn't taste "just like" eggs, but it feels like eggs – and it is satisfying, delicious, and full of protein on mornings when we want something more substantial.
The good thing about this scramble is that it's a formula, so you can flavor it a number of different ways.
Variations on Tofu Scrambled "Eggs"
Here are the other two variations we've created for you to try, but we hope you'll also use the Root Formula to use what you have or what you love to create your own signature variation.
Tofu Scrambled "Eggs" with Black Beans and Salsa and Tofu Scrambled "Eggs" with Chickpeas and Salsa Verde
What To Serve It With
This tofu scramble is satisfying and filling on its own, but for a more substantial meal, serve this scramble with toast, veggie sausages, or even over leftover rice.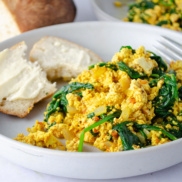 Tofu Scrambled "Eggs" with Spinach and Sundried Tomato Pesto
Recipe Notes
For a little added richness, stir in a tablespoon of plant-based butter at the end of cooking.
Ingredients
1

pound

firm tofu,

drained and crumbled

2

tablespoons

olive oil

1

medium-large

onion,

cut into medium dice

4

cups

packed fresh spinach

1

can (15-16 oz)

chickpeas,

drained

2

tablespoons

nutritional yeast

2

teaspoons

turmeric

1/4

cup

sundried tomato pesto
Instructions
While draining tofu, heat oil in a large skillet over medium-high heat. Add onions; sauté until softened, 4 to 5 minutes. Add spinach, sauté until wilted, a couple of minutes. Add the tofu and Beans, along with turmeric and nutritional yeast. Cook, stirring to thoroughly combine. Stir in pesto; continue to cook to heat through. Serve.