I remember how excited we all were after developing Chickpea "Chicken" Salad, so when it came time to explore new summer recipes, we decided it was finally time to tackle the equally popular sandwich spread: egg salad.
We quickly discovered that the key to perfect Planetarian Egg Salad is silken tofu, which perfectly stands for the boiled egg whites—both in texture and flavor. Add a little turmeric and classic egg salad ingredients, and it's hard to tell the difference between egg salad and one made with silken tofu.
Silken Tofu
Silken tofu is relatively readily available. You can usually find it in 16-ounce blocks in the refrigerated section next to all the other varieties of tofu. You can also find it in the grocery aisle in aseptic packaging, extending its shelf life and making it easier to store, especially for those with limited fridge space.
Our recipe calls for 1 1/2 pounds of silken tofu (or 2 12-ounce packages). If you prefer using the refrigerated 1-pound blocks, simply buy two packages, and use 1 1/2 containers (saving the remaining half pound of silken tofu for scrambled eggs). Or use both 1-pound blocks and simply increase the other egg salad ingredients by about 25%.
There's no need to weight the silken tofu. Simply pat it dry and cut it into small dice. Silken tofu is more delicate than the firmer tofu varieties, so treat it gently. If a piece breaks off while you're cutting it, no big deal—just chop it into small pieces.
Plant-Based "Egg" Salad
Once the tofu is diced, it's just a matter of adding the classic ingredients—mayonnaise, a bit of mustard, and little celery and red onion. We like a little sweet pickle relish in our salad—a little juice too. Fresh herbs are a nice touch—we've added dill or parsley, your choice—but you can leave it out if you're in a hurry. And finally, a bit of turmeric to give it that boiled egg yolk color.
We thought we couldn't be much happier after developing Chickpea Chicken Salad. Turns out, our Planetarian Egg Salad rivals it, so give it a try.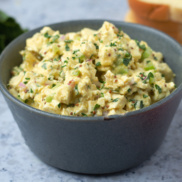 Planetarian Egg Salad
Recipe Notes
Ingredients
2

boxes (12.5 oz each) or 1 1/2 pounds

silken tofu

12.5 ounces each or 1 1/2 pounds silken tofu

6

tablespoon

vegan mayonnaise

6

tablespoons

(1/4 cup plus 2 tablespoons) celery, finely diced

1/4

cup

red onion, finedly diced

1/4

cup

pickle relish

plus 2 teaspoons pickle relish juice

2

tablespoons

mustard

(preferably 1 tablespoon each: Dijon and whole grain)

2

tablespoons

chopped fresh dill or parsley

1

teaspoon

turmeric

Salt and ground black pepper
Instructions
Drain tofu and cut into small dice, carefully placing it on a towel and patting it dry; turn into a medium bowl. Add remaining ingredients, including a sprinkling of salt and pepper; toss to coat. (Serve. Can be turned into a covered container and refrigerated for a week.)