For years, all manner of patés have been a part of our holiday celebrations, but we've recently developed a plant-based mushroom version that we think rivals the pork and poultry ones we've always enjoyed. Served with our favorite paté accompaniments—little cornichons and pickled onions—and a basket of little toasts, Mushroom Paté is as festive and flavorful as any chicken liver or pork paté we've ever enjoyed. Another Mushroom Paté benefit… you can make it in about fifteen minutes! Here's how.
Making Mushroom Paté
Start by sautéing shallots in a large skillet over medium-high heat and toasting the walnuts in a small skillet over low heat. While the shallots sauté, quickly chop the mushrooms in the food processor. No need to wash out the food processor as the mushrooms will be processed a second time once they're cooked. Add those chopped mushrooms to the sautéing shallots and cook them, adding the sage and thyme, until most of their liquid has evaporated. It doesn't take long—five minutes max.
Now it's time to add the ingredient that makes this paté taste like it's meaty counterpart. It's cream sherry, a flavoring we also use in stir fries that gives it that elusive je ne sais quoi flavor. You can skip this ingredient or try to find a substitute, and the mixture will taste fine. But if you really want to say, "That really tastes like paté!" buy the cream sherry.
Once the walnuts are toasted, add them to the food processor and finely grind them. Add the mushroom mixture and process to a paste. Taste and adjust seasonings, including salt and pepper, and maybe an extra squeeze of lemon juice, and that, my friends, is it.
This paté is the perfect start to a nice dinner—particularly during fall and winter.
Mushroom Wellington
The paté doubles as the duxelles filling you'll need if you make Mushroom Wellington.
Festive Plant-Based Appetizer Board
This makes a great addition to Planetarian's Festive Plant-Based Appetizer Board. We load the board up with Festive Beet Hummus, Mushroom Paté, Smoky, Zesty Kale-White Bean Dip, Planetarian "Cheese" Ball with Cranberries and Walnuts, Union Square-Inspired Rosemary Spiced Nuts, and Jumbo Homemade Crackers. Then we fill out the rest of the board with classic paté accompaniments—pickled onions and cornichons—crowd pleasing crudité, olives, peppadew peppers, and dried fruit.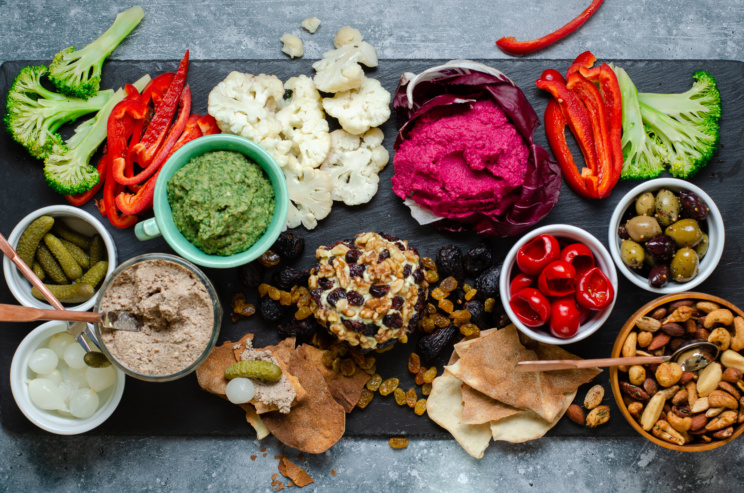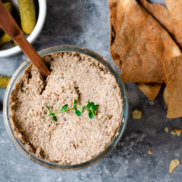 Mushroom Paté
Recipe Notes
Ingredients
1/4

cup

olive oil,

divided

2

medium

shallots,

cut into small dice

1

pound

baby bella mushrooms,

chopped by pulsing in a food processor

2

tablespoons

each: chopped fresh sage and thyme leaves

(or 2 teaspoons each: dried)

Salt and ground black pepper

3

tablespoons

cream sherry

1

teaspoon

lemon juice

A heaping 1/2 cup toasted walnuts
Instructions
Heat 2 tablespoons of oil in a large skillet. Add shallots and sauté until tender, 2 to 3 minutes. Add mushrooms; cook until most of the liquid has evaporated, adding sage and thyme and seasoning with salt and pepper, about 5 minutes. Add sherry and lemon juice; continue to cook until liquid evaporates, a minute or so longer.

Grind walnuts in a food processor. Add mushroom mixture and remaining 2 tablespoons of oil; continue to process until pureed. Taste and adjust seasonings, including salt and pepper to taste.