I'm pretty skeptical of plant-based cheese. I've tasted a brand of sharp cheddar that makes a pretty mean mac & cheese, and I'm crazy about our plant-based feta, but if you told me even a week ago that I'd be making holiday cheese balls out of plant-based cream cheese, I'd have said you were crazy. Why the change? I finally found a brand of plant-based cream cheese (Violife) that I like, which made it possible to make a great plant-based cheese ball—and a pretty one at that. Our Planetarian "Cheese" Ball with Cranberries and Walnuts is the perfect addition to our Festive Plant-Based Appetizer Board.
Toasting the Nuts
If you don't have toasted walnuts, start by pan-roasting them in a small skillet over low heat. The cheese ball is small, so while you don't want ground walnuts, you don't want walnut halves either. Pick out medium to medium-large pieces from your stash, and if you have walnut halves, break them down to size. If you want to coat the cheese ball right away, you may want to toss the walnuts in the freezer to cool them down quickly.
Forming the "Cheese" Ball
Next mince a garlic clove and fresh thyme leaves in a food processor. Since it's the holidays, it's nice to use fresh herbs. At this point, add the plant-based cream cheese and the nutritional yeast, which gives a nutty, cheesy flavor boost. When the ingredients are well blended, scrape the cream cheese mixture onto a work surface and mold it into a ball. If the ball is super soft, you may want to refrigerate it for fifteen minutes or so to firm up. If not, it's time to press on the walnuts and dried cranberries. No need to be too particular about placement, just roughly alternate between walnuts and cranberries until the ball is completely coated.
This Plant-Based "Cheese" Ball Stunned our Tasters
Our recipe testers were stunned that this cheese ball was not made with dairy cream cheese. They believed they were eating real Boursin cheese. Why not try out this simple, plant-based cheeseball on your guests and get their reaction?
Festive Plant-Based Appetizer Board
This makes a great addition to Planetarian's Festive Plant-Based Appetizer Board. We load the board up with Festive Beet Hummus, Mushroom Paté, Smoky, Zesty Kale-White Bean Dip, Planetarian "Cheese" Ball with Cranberries and Walnuts, Union Square-Inspired Rosemary Spiced Nuts, and Jumbo Homemade Crackers. Then we fill out the rest of the board with classic paté accompaniments—pickled onions and cornichons—crowd pleasing crudité, olives, peppadew peppers, and dried fruit.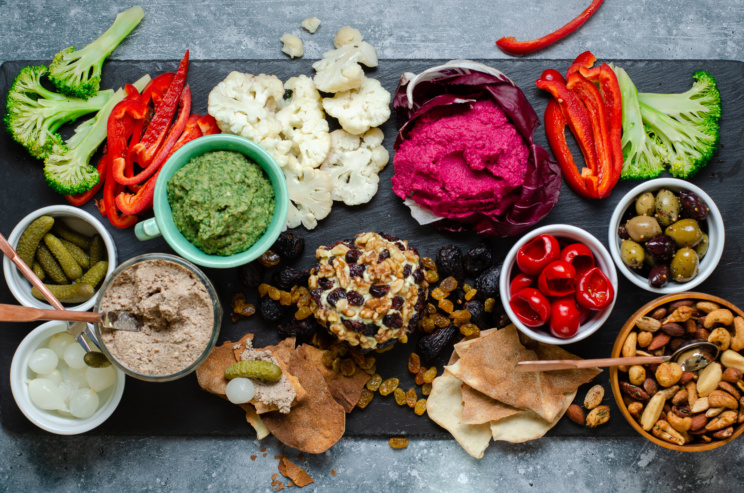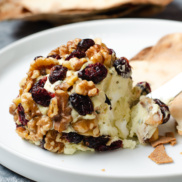 Planetarian "Cheese" Ball with Cranberries and Walnuts
Recipe Notes
Ingredients
1

large garlic clove

2

teaspoons

fresh thyme leaves

2

tablespoons

nutritional yeast

8

ounces

plant-based cream cheese

We like Violife brand.

1/4

cup

each dried cranberries and toasted walnut pieces
Instructions
Mince garlic and thyme in the food processor; add nutritional yeast and cream cheese; process to combine. Turn out onto a work surface and form into a rough ball, pressing cranberries and walnuts into the cheese ball to cover. Refrigerate until ready to serve. Can be covered and refrigerated overnight.