There was a time when I was all about rotisserie chickens. They were such a time saver that I'd use them as frequently as I could in dishes like crepes, chili, potpie, dumplings… and yes, enchiladas.
My chicken enchilada recipe was so simple! Just mix chicken with salsa verde, cheese, cilantro. Roll up a portion of mixture in a corn tortilla. Place in a baking dish sprinkle with more sauce and cheese; bake and serve.
I can't remember the last time I bought a rotisserie chicken, so my enchilada recipe fell off my list of regulars. But then not long ago, Maggy's friend made her enchiladas, which she loved. Andy loved them too, but more importantly Dash and Nova loved them. She decided it was time for us to develop a Planetarian version.
We looked on-line and saw recipes that started with sautéing peppers and onions and cooked grains, but then I remembered my old Spicy Chicken Enchiladas Verde recipe in Perfect One-Dish Dinners. My goal was to keep our Planetarian enchiladas as simple as that, and in just one try, we realized it wasn't going to be hard!
Planetarian Enchiladas
We chose two cans of pinto beans and a package of frozen spinach as a stand-in for the 4 cups of shredded chicken in the original recipe. Corn tortillas completed the protein and the spinach not only offered great color, it transformed the enchiladas into a complete meal. As in the original recipe, we bound the bean mixture with salsa verde and grated cheese. (Plant or dairy—they both work— and the choice is yours.). We heightened flavor with chopped fresh cilantro.
Instead of using more salsa verde to drizzle on top, we opted for bottled enchilada sauce which added great color and even more flavor.
There's enough filling to make 16 enchiladas. Twelve enchiladas comfortably fit in a 13- by 9-inch baking pan, so you'll need an extra small baking pan for the remaining 4.
Once the enchiladas have baked, turn the oven to broil and scatter on some thinly sliced red onions for extra flavor, color, and crunch. As they emerge from the oven, sprinkle with a little cilantro, and you've got a dish that's simple enough for weeknight dinner, yet special enough to serve to guests.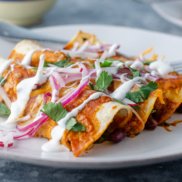 Quick Bean & Green Enchiladas
Recipe Notes
Makes 16 small enchiladas.
You can serve the enchiladas with a little dollop of sour cream, but we like thinning the sour cream with plant-based milk or even water to drizzle consistency. It looks prettier and means you don't need as much. The enchiladas have enough flavor on their own, but for those who like it extra spicy, set out bottles of hot sauce.
Ingredients
2

cans (15 to 16 oz)

pinto beans,

drained

8 to 10

oz

frozen chopped spinach,

thawed and lightly squeezed to remove liquid

1

can (5 oz)

chopped green chiles

12

ounces

salsa verde,

divided

8

ounces (about 3 cups)

shredded sharp cheddar, plant or dairy, divided

1/2

cup

chopped fresh cilantro,

plus extra for garnish

Salt and ground black pepper

16

corn tortillas

12

ounces

bottled or canned prepared enchilada sauce

1/2

medium

red onion,

halved and sliced thin

1

container (8 oz)

sour cream,

plant or dairy
Instructions
Adjust oven rack to center position and heat oven to 400 degrees. Mix beans with spinach, chilies, 3/4 cup salsa verde, half the cheese, the cilantro, and salt and pepper to taste. Spray a 13-by 9-inch and a second small baking dish large enough to hold an additional 4 enchiladas.

Working one at a time, spoon about 1/4 cup of the filling into a tortilla. Roll into a cylinder and place, seam-side down, in prepared baking dish. Repeat with remaining tortillas and filling. Drizzle with enchilada sauce and sprinkle with remaining cheese. Cover with a cooking spray-coated sheet of foil and bake until heated through, about 30 minutes.

Turn oven to broil, remove foil, sprinkle with onion slices and continue to cook until cheese is bubbly, let stand for a few minutes, sprinkle with cilantro, and serve with sour cream and remaining salsa verde.