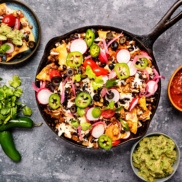 Planetarian Nachos
Recipe Notes
Though not necessary, you can also make Lentil-Walnut Taco Mix which acts as ground meat for Planetarian Nachos Extraordinaire! If you decide to make Lentil-Walnut Mix, not only will you have enough for a taco dinner, you'll also have a half batch of Lentil-Walnut Mix, which you can use to make sloppy Joes or Hoisin & Sesame Lettuce Cups. If you decide to make the Lentil-Walnut Taco Mix, use 2 cups in this recipe and then reduce the chili from 3 to 2 cups.
As for the chili, you'll want it on the thick side for this recipe. If, your chili seems a little juicy, stir a couple of tablespoons of cornmeal into the simmering chili at the end to thicken it. As you'll see from the recipe, you won't use all of the chili for this dish, which means another meal in the bank later in the week.
Homemade chips are sturdier than store-bought chips and make better nachos, but when there's not time to fry or bake them, store-bought chips work just fine. Buy the thickest, sturdiest ones you can.
Instructions
Heat oven to 400 degrees. Working a third at a time, layer a portion of chips, chili, cheese, and olives in a 10-inch skillet (cast iron if you've got it). Bake until heated through, about 10 minutes. Serve immediately with any or all of the suggested toppings.