Tamale Pie definitely falls into the classic comfort food section of the Capsule Kitchen. To us it's like chili, but far superior because of the soft cornmeal crust that blankets the chili-like base. We offer two versions: this one with beans and corn as well as one with plant-based meat and beans. We also have an option for topping the cornmeal crust with crushed tortilla chips if you want to keep it totally plant-based, a little shredded cheese if that works for you, or you can use both! Like most recipes we create, you can customize it.
It is simple and quick enough to make for weeknight dinner, yet festive enough to serve for a casual dinner when you add a basket of tortilla chips with guacamole and salsa—a pitcher of margaritas!—to start. To accompany the Tamale Pie, make some Simple Slaw (recipe below), and then end the meal with a batch of Easy Chocolate N'Ice Cream.
[To make Simple Cole Slaw, mix 8 cups shredded cabbage, 2 coarsely grated medium carrot, 1/2 small thinly sliced red onion, 3/4 cup mayonnaise (preferably plant-based), 1/3 cup cider vinegar, 2 teaspoon celery seeds, and generous sprinkling of salt and pepper.]
This corn and black bean version of Tamale Pie is just as hearty and satisfying as the plant-based meat version. And it's even easier—no browning the meat, just dump and stir! If you'd like a little onion, feel free. Simply sauté it in the oil before adding the beans and corn.
Making Tamale Pie Ahead
You can make and refrigerate Tamale Pie a day ahead, including topping it with the cornmeal mush. Before refrigerating it, place a sheet of plastic wrap directly on the pie to prevent the cornmeal mush from forming a skin. An hour or so before serving, adjust the oven rack to lower-middle position and heat oven to 400 degrees. Remove the plastic wrap, top the pie with cheese and/or tortilla chips, cover with heavy-duty foil and bake until heated through, about thirty minutes. Remove the foil, sprinkle with cilantro and optional red onion and follow the broiling and resting instructions in the recipe. Any leftovers can be covered and refrigerated for up to three days and reheated in the microwave.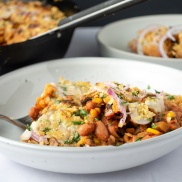 Tamale Pie (Bean and Corn Version)
Recipe Notes
Set out toppings like hot sauce, sour cream or plant-based yogurt, pickled or diced red onions, sliced cherry tomatoes, avocado, etc.
Cooking for 1 or 2? This recipe easily halves. Use a medium (10-inch) skillet.
For extra flavor and color, top the pie with a little thinly sliced red onion, along with the cilantro.
Ingredients
1

tablespoon

olive oil

2

tablespoons

plus 2 teaspoons chili powder,

divided (make sure to use a chili powder spice blend, not straight chili powder)

1

can

black beans,

drained

2

cans (16 oz each)

pinto beans,

drained with 1/4 of the beans mashed

2

heaping cups

frozen corn,

thawed

2

cans (2.25 ounces each)

diced green chiles,

or substitute a diced and sautéed green bell pepper

1

jar (16 oz)

prepared salsa

(1 jar is about 2 cups)

1/2

cup

chopped fresh cilantro,

divided

1

cup

cornmeal

(2

tablespoons

plant-based butter,

if not using cheese)

1

cup

grated sharp cheddar cheese

(1 cup is about 4 oz)

1

cup

crumbled tortilla chips
Instructions
Adjust oven rack to middle position and turn on broiler. Heat oil in a large (12 inch) skillet over medium-high heat. Add 2 tablespoons of the chili powder, beans, corn, chiles, salsa, and 1/4 cup of the cilantro; simmer to blend flavors, about 5 minutes.

Meanwhile, bring 3 cups of water, cornmeal, remaining 2 teaspoons of chili powder, and 1 teaspoon of salt to boil in a large saucepan or Dutch oven, whisking frequently until mixture thickens to soft mush consistency, just a couple of minutes. (If not topping it with cheese, stir in plant-based butter now.)

Pour mush over hot bean mixture, spreading with a spatula to completely cover. Sprinkle with optional cheese, remaining 1/4 cup of cilantro, and the crumbled chips. Broil until chips turn golden brown, cheese, (if using) melts, and mush gets a little crusty, about 5 minutes. Let rest for 5 minutes and serve.