Our Lemony Rice Soup will remind you of classic Italian Wedding Soup with a lemony twist.  While there's nothing quite like the little meatballs in that famous soup, the spinach and dill in this soup offer that unmistakable flavor. We also purée some of the rice and broth resulting in a soup so creamy, you'd think it was enriched with egg. The white beans in this Planetarian version add texture and substance, and the lemon zest boosts flavor.
Have Rice On Hand
We can't say enough about having cooked rice on hand. Start your week by making this simple essential. In just twenty minutes you'll have a serious head start on many great meals throughout the week. How many satisfying meals—soups like this Lemony Rice Soup with Spinach and Dill no less!—can you get on the table in under twenty minutes, just by making a pot of rice.
If you'd rather just make a small pot of rice for this soup and have no leftovers, we have a recipe for that, too! The ratio is the always the same. Just 3 cups of water, 2 cups of rice, 1t of salt, and 1T of optional fat.
Frozen Whole Leaf Spinach
Make sure to keep frozen whole leaf spinach on hand at all times. It offers all the flavor of fresh, and is easier to toss into soups and other one-pot dishes. With just a snip of a bag, frozen whole leaf spinach is a remarkably easy way to transform nearly any bean or grain dish from side dish to complete main course.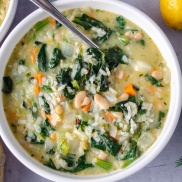 Lemony Rice Soup with Spinach and Dill
Recipe Notes
With the Rice made, this soup comes together in about 20 minutes. If you don't feel like the extra step or dishes, you can skip the puréeing step.
Ingredients
2

tablespoons

olive oil

1

large

each: onion, carrot, and celery stalk, cut into medium dice

2

teaspoons

dried oregano

1

quart

vegetable or chicken broth

3

cups

cooked rice (Here's our recipe: Pot of Rice)

1

can (15-16 oz or about 1.5 cups)

white beans,

drained

1/4

cup

juice and 2 teaspoons finely grated zest from 2 lemons

1

pound

frozen spinach,

microwaved until thawed

2

tablespoons

chopped fresh dill

Salt and ground black pepper
Instructions
Heat oil over low heat in a large soup kettle while preparing the vegetables. When ready to sauté, increase heat to medium-high and add onions, carrot, and celery; sauté until soft, about 5 minutes. Add oregano, followed by broth and 2 cups of water and the rice and beans. Bring to a simmer; reduce heat to medium-low and cook to blend flavors, about 5 minutes. Pull off 2 cups of the soup and puree in a blender or food processor; return to the pot. Add lemon juice and zest and spinach and dill; return to a simmer. Taste and adjust seasoning, including a generous sprinkling of salt and pepper. Serve.