---
This is a Variation on a Root Formula, a simplified recipe that shows which ingredients
are core and which can be changed to create different flavor combinations or use what you
have on hand. See our other variations at the bottom of the Root Formula page.
---
When someone asks me "What are you craving?" Nine times out of ten I say ramen. I always want a deep bowl of Ramen Soup filled with flavorful broth, steamy noodles, and crunchy veggies. And during the cooler months, the heat from the ginger and hot sauce warms the belly. Disclaimer: this is NOT traditional ramen, but when you want something like it and fast, this is an incredibly quick, deeply satisfying soup—much better than the Top Ramen packet you get from the grocery store.
You can make the broth ahead but, from start to finish this recipe comes together in about 15 minutes. Once the broth comes to a simmer it's ready to serve in just a few minutes, so make sure the soup is completely prepped and toppings are on the table before you add the noodles.
What the Planetarian Life Recipe Testers said about Hearty Ramen Soup….
Love it, nice and easy, love that it is flexible with the type of veg so can use whatever's in the fridge if not planned… I ended up making it twice in 1 week AND leftovers for lunch… so that's 3 times this week!
It was absolutely divine. So tasty. I just couldn't find a way to improve upon it. I followed the recipe timings to the letter and veg was perfectly crunchy.
Five stars. Super easy to make! Frozen veg make it all the easier as well.
No ramen noodles? No problem.
Most people don't have access to fresh ramen noodles at their grocery store, which would lead a person to believe their only option is a block of Top Ramen. But there is an incredibly easy technique that takes thin spaghetti from Italy to Japan with the addition of one ingredient: baking soda. We call them "Ramenized" Noodles. Springy and chewy with that classic golden hue, they're a close second to fresh. The magic is in the alkaline solution created by the baking soda.
Bring 2 quarts of water to boil over high heat in a large (at least 6 quarts) pot. Add 4 teaspoons of baking soda, 1 tablespoon of salt, and 1 box (16 oz) thin spaghetti and return to the boil; cook, stirring frequently throughout the cooking process—at first to keep spaghetti from sticking and then later to reduce foaming, until pasta is al dente, 5 to 6 minutes (or following package instructions). Drain pasta under cold running water and set aside until ready to use. Can be refrigerated in an airtight container for several days.
Toppings are key for Ramen Soup
Take the time to set out some good toppings with this Hearty Ramen Soup: toasted sesame seeds, Sriracha or other hot sauce, chopped cilantro, sesame oil, chili crisp, etc. The soup easily stands on its own, but these flavorful toppings take it to the next level.
Recipe Notes
*Set out toppings like lime quarters, thinly sliced scallions, cilantro leaves, sesame oil, Srirachca and/or chili crisp for extra flavor.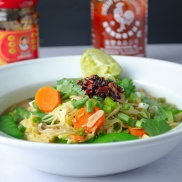 Hearty Ramen Soup with Snow Peas and Carrots
Recipe Notes
Ingredients
2

quarts

vegetable broth

1/4

cup

grated fresh ginger

4

large

garlic cloves,

thinly sliced

1/4

cup

soy sauce

1

pound

ramen noodles,

preferably brown rice or other whole grain (we like Lotus Foods brand)

1

pound

snow peas (strings removed, if necessary) and carrots, thinly sliced

8

ounces

bean sprouts or thinly sliced cabbage
Instructions
Bring broth, ginger, garlic, and soy to simmer in a large pot. Add noodles and cook, using a fork to break up the strands, until almost tender, about 3 minutes. Add carrots and snow peas; simmer until crisp-tender, about 2 minutes. Add bean sprouts or cabbage slices; continue to simmer until they just start to wilt, about a minute longer. Serve immediately with some of the suggested toppings*.