Spoiler alert: you will want to eat this Lemon Herb Dressing out of the bowl with a spoon. It is bright, zesty, and punchy. We originally developed this Essential as a topping for our Cauliflower Steaks. We serve these 'steaks' with potatoes, vegetables, and a thick slice of Effortless Homemade Bread. But after one taste of the herby-lemon flavor, we poured it over the whole plate.
Drizzle Lemon-Herb Dressing Over Everything
We suspected that this was more than "just a drizzle" and our recipe testers confirmed our suspicions! They reported using it on everything from salads and grilled/roasted vegetables to boiled potatoes and sliced tomatoes. At that point we happily gave it a permanent home in the Capsule Kitchen. This dressing can be made and enjoyed year-round, but it's perfect for summer when there's bountiful produce that needs something special.
Made With A Handful of Capsule Ingredients
What I love about this dressing is that I always have these simple Capsule Kitchen Ingredients – herbs, lemon, capers, scallions, olive, salt and pepper. There are no specialty ingredients required.
Use Any Leafy Herb
We have used parsley and also a mix of basil and parsley, but this dressing would work with just about any combination of leafy herbs. It's a great way to use bountiful herbs in a garden or any leftovers you have in the fridge. We'd love to hear what combinations you try and where you use this Lemon-Herb Dressing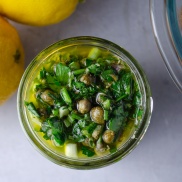 Lemon-Herb Dressing
Recipe Notes
This dressing is so bright, zesty, and punchy, you'll be tempted to eat it right out of the bowl.
Ingredients
3/4

cup

packed parsley leaves,

chopped (you can also use fresh basil or a mix of the two)

2

teaspoons

finely grated lemon zest and 3 tablespoons juice from 1 to 2 lemons

1/4

cup

drained capers,

3 tablespoons whole, 1 tablespoon chopped

3

scallions

thinly sliced

6

tablespoons

extra-virgin olive oil

Salt and ground black pepper
Instructions
Mix all ingredients in a small bowl and season to taste with salt and pepper. Serve. Can be refrigerated for a couple of days.