With temperatures in the high nineties in the northeast this coming week, we decided to bump  up tostadas in the tester queue—a fun, super simple recipe with wide appeal. Most importantly, no stove or oven required!
Of course you could fry up your own
corn tortillas
—we have a recipe on the Planetarian Life site—but why would you when you can pick up a package of crisp ready-to-serve tostadas at the grocery store. With tostadas ready to assemble, the rest is simple.
Assembling Tostadas
Just drain a can of black beans and dump them into a food processor bowl. Add in some store-bought salsa, a little cumin, and some cilantro. Hit start and in less than thirty seconds, your tostada base is done. You can quickly heat this puree in the microwave, but on super hot days, we don't mind spreading it—room temp—on the tostadas.
Next, shred a couple of cups of cabbage. If you've got a mandoline, the shredding takes no time. But if not, you can hand chop it and achieve the same result. Take the time to season the cabbage with a glug of olive oil, a sprinkling of salt and pepper, and a squeeze of lime. Next, thin sour cream to drizzle consistency with a little milk (either regular or plant-based) and spoon it over the cabbage. Sprinkle on a little cheese, scatter cilantro leaves over the tostadas to finish, and serve them up.
Yep, we told you you should have doubled the recipe.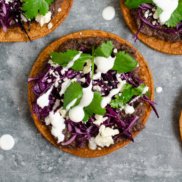 Tasty Black Bean Tostadas
Recipe Notes
Figure two tostadas per person—maybe three for heartier appetites. Make one recipe if you like, but you'll never regret doubling it. The black bean spread is just a quick whir in the food processor, but with extra already made, you can have lunch or dinner on the table in just minutes.
Ingredients
1

can (15-16 oz)

black bean,

drained

1/2

cup

store-bought salsa

1/2

teaspoon

cumin

1/4

cup

packed cilantro leaves,

plus extra for topping

2

cups

finely shredded cabbage

1

tablespoon

olive oil

1 1/2

teaspoons

fresh lime juice,

plus extra wedges for serving

6

tostadas

(6 inches in diameter) or I-Can't-Believe-They're-Not-Fried Tortillas (left whole)

1/3

cup

dairy or plant-based sour cream

(thinned with 2 tablespoons dairy or plant milk)

1/2

cup

crumbled Cotija or feta cheese or vegan feta
Instructions
Place black beans, salsa, cumin and 1/4 cup cilantro leaves in a food processor; process to puree. Turn into a microwave-safe bowl, cover and microwave on high power until hot, 1 to 2 minutes; set aside.

Toss cabbage with oil and a sprinkling of salt and pepper; toss to coat. Add lime juice; toss to coat again.

Spread about 1/4 cup of the bean spread over each tostada; top with a portion of cabbage and cheese. Drizzle with sour cream and garnish with cilantro leaves. Serve immediately.