For those who love chicken breasts with a pan sauce for dinner, consider adding Falafel with Romesco Sauce to your list of plant-based main courses. The falafel patties are a crisp, herbaceous, and satisfying alternative to that meaty center-of-the-plate main course.
You may choose to pan fry only enough patties for tonight's main course. But, you can also take the time to pan fry all twenty-four patties, using leftover falafel to bulk up tomorrow's sandwich or salad lunch. You can also divide the falafel mixture, forming small patties with half the mixture for this recipe. And forming four large patties from the remaining half to make Falafel Burgers for later in the week.
How to Serve Falafel with Romesco Sauce
Serve Falafel with Romesco Sauce with a simple steam-sautéed seasonal green vegetable. We like green beans in the summer, asparagus in the spring, and Brussels sprouts and broccoli in the fall and winter. Or a Tahini Dressing-tossed green salad served either before or with the main course. For those looking for a little more substance, serve warm pita bread for scooping up the falafel and dipping it in the Romesco sauce.
Romesco Sauce
Our Romesco Sauce features roasted red peppers, almonds, and sundried tomatoes. It's similar to our Sundried Tomato Pesto, which is equal parts peppers, almonds, and tomatoes. In Romesco Sauce, however, roasted peppers take the lead, followed by almonds, with only a small portion of sundried tomatoes. With its highly flavorful smoked paprika and Aleppo pepper (or use a pinch of cayenne or hot red pepper flakes), Romesco Sauce makes a wonderful dipping sauce for the falafel.
We have purposely created more Romesco sauce than you'll need for the falafel. So, if you make the full recipe, there will be leftover sauce for tossing with pasta, drizzling on soups, and spreading on burgers and sandwiches. It's also great for saucing eggs—scrambled, poached, or fried.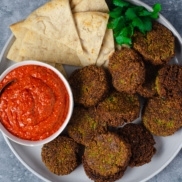 Falafel with Romesco Sauce
Recipe Notes
You may want to half this recipe, which serves 4. Use the remaining falafel in one of the other falafel recipes and use the Romesco sauce, tossed with pasta, drizzled in soup, or spread in a burger or sandwich. Serve the falafel and this Romesco sauce with pita and a simple salad.
Instructions
Make Romesco Sauce, fry or bake falafel. Serve!