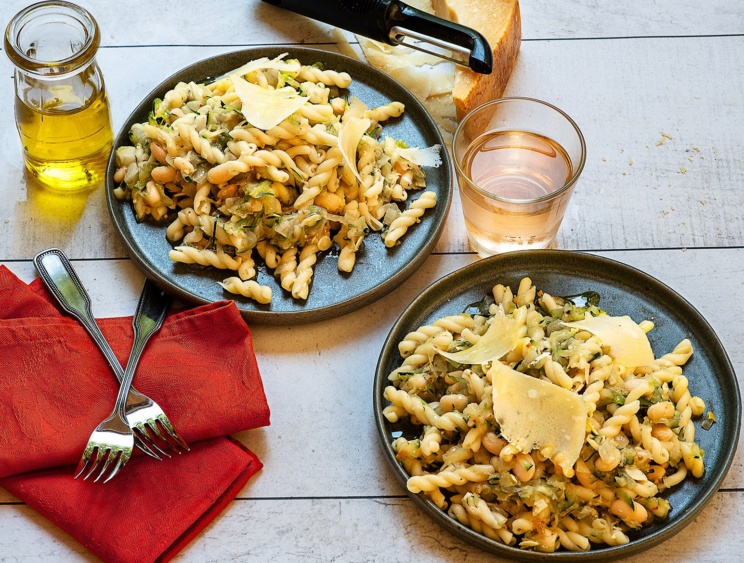 Beans and Pasta with Flash Zucchini Sauce
Serves 4 to 6
Any of the Planetarian Life pesto sauces—Lemon, Sun-Dried Tomato, or Basil—add extra flavor to this dish.
Stir in 1/4 cup along with the cheese.
Salt
12 ounces pasta, your choice
1 can (15 to 16 ounces) white beans (1 1/2 cups) drained
1/4 cup olive oil, plus extra for drizzling
Generous 2 pounds zucchini, grated on the large holes of box grater, about 6 cups
1 large onion, cut into medium dice
Pinch hot red pepper flakes
1/2 cup grated Parmigiana Reggiano or pecorino Romano, plus extra sprinkling
1/2 cup coarsely chopped fresh basil
Bring 2 generous quarts of water and 1 tablespoon of salt to boil in a large pot. Add pasta and,
using box instructions as a guide, cook until al dente. Reserving a cup of the pasta cooking
liquid, drain and return pasta to the pot, and add the beans.
While water heats and pasta cooks, heat oil over medium-high heat in a large (12-inch) skillet.
Add onions and pepper flakes; sauté until tender, about 5 minutes. Grate zucchini and add to
the onion; Cook until reduced to sauce consistency, about 10 minutes. Add zucchini to pasta
and beans and cook over medium-high heat to marry sauce to pasta and beans, adding pasta
cooking liquid, if necessary, to help blend sauce to pasta and beans. Stir in cheese and basil and
serve drizzling each portion with a little olive oil and extra cheese.