---
This is a Variation on a Root Formula, a simplified recipe that shows which ingredients
are core and which can be changed to create different flavor combinations or use what you
have on hand. See our other variations at the bottom of the Root Formula page.
---
We're always looking for fun ways to jazz up beans and grains, and this Mediterranean White Bean and Orzo Gratin is a wonderful example of just how tasty eating meatless can be. This dish evolved in a funny sort of way, and here's our story.
A few weeks ago, I found an on-line recipe for a very appealing white bean casserole with a crisp garlicky panko topping. I made it and enjoyed it very much. The only problem was that the beans were more stew-like than casserole. I liked the idea of this crispy breadcrumb-topped baked bean dish, I just wanted it to hang together and be more substantial.
So, I made it again, stirring orzo pasta into the simmering beans and turning the mixture into a 13- by 9-inch baking dish. First I topped it with crumbled feta, followed by the garlicky panko crumbs. Then I baked it until golden brown and bubbly. The orzo was just the culinary glue I had hoped for, and this bean and grain partnership, offered a crowd-pleasing, protein-rich meatless dish.
White Bean and Orzo Gratin
So how does Mediterranean White Bean and Orzo Gratin come together? If you need to make the dish fast, start with canned white beans. If have time (and want to save money), start by soaking a pound of white beans overnight and then cooking them.
In this dish we use the bean cooking liquid as part of the one quart of broth you need to make this gratin. If you soak and cook the beans the Planetarian Life way, you'll need very little broth to make up the difference.
Like many Planetarian Life recipes, Mediterranean White Bean and Orzo Gratin starts off with sautéing onions and garlic, to which you add dried basil, oregano, fennel, and hot red pepper flakes. Once the aromatics have softened, add most of the remaining ingredients—the white beans, broth, tomatoes, and orzo. While this mixture comes to the simmer, prepare the panko topping. When the mixture starts to simmer and the orzo has partially absorbed the liquid, stir in the parsley, pour the mixture into a 13- by 9-inch baking dish, sprinkle with feta, if you like, and then the panko topping.
The thirty-minute baking time and the generous yield makes this crowd-pleasing dish perfect for gatherings with family and friends. And if your crowd isn't so big, the recipe halves easily halves.
Other Bean & Grain Gratin Variations
In addition to this Mediterranean White Bean & Orzo Gratin, we've developed a Chickpea and Pearl Couscous Gratin and a Smoky Black Bean and Rice Gratin.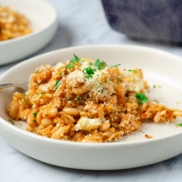 Mediterranean White Bean and Orzo Gratin
Recipe Notes
This recipe easily halves and if you do, cook it in one of two ways—simply follow the recipe here and bake it in a 9-inch square baking dish. Or, cook it in a soup kettle until the liquid has absorbed and grains are tender, sprinkle it with the Crunchy Topping, and carefully broil it until the topping has browned.
*For a little extra richness and flavor, sprinkle a cup of crumbled feta—dairy- or plant-based—over the beans before adding the panko topping. For a little extra color, add a little extra chopped fresh parsley to the panko.
Ingredients
1

recipe

Pot of Beans or 4 cans

(15 to 16 ounces) white beans (cannellini or great Northern)

2

cups (or more)

broth,

your choice

2

tablespoons

olive oil

1

large

onion,

cut into small dice

4

large

garlic cloves for gratin and 1 large garlic clove for panko topping,

minced

2

teaspoons

dried basil leaves

1

teaspoon

each: dried oregano and ground or minced fennel seeds

1/4

teaspoon

hot red pepper flakes

1

can (14.5 oz)

petite diced tomatoes

2

cups

orzo pasta

1

cup

panko breadcrumbs

2

tablespoons

olive oil

1/2

cup

chopped fresh parsley

Salt and ground black pepper
Instructions
Adjust oven rack to middle position and heat oven to 400 degrees. If using a Pot of Beans, soak and cook them, reserving bean cooking liquid in a 1 quart measuring cup. If using canned beans, drain them, reserving bean liquid in a 1 quart liquid measuring cup. Add enough broth to equal 1 quart.

Heat oil in a large pot; add onions and sauté until nearly tender, about 4 minutes. Add 4 cloves minced garlic, basil, oregano, fennel and pepper flakes; continue to cook another minute or so. Add broth, beans, tomatoes, and orzo; bring to a simmer.

While mixture heats, mix panko, 1 clove minced garlic, oil, and a pinch of salt in a medium bowl.

When bean mixture starts to simmer, stir in parsley. Taste and adjust seasonings, including salt and pepper to taste. Turn mixture into a 13- by 19-inch pan. (*If using feta, sprinkle it now.) Sprinkle with panko and bake until bubbly and golden brown, about 30 minutes. Remove from oven, let rest a few minutes, and then serve.