To us, the big summer holiday meals—Memorial Day, Fourth of July, and Labor Day—are a little like Thanksgiving. We love the side dishes more than we love the center-of-the-table ribs or roast turkey. Still, to give the meal weight and focus and to make it feel special, you need that impressive culinary centerpiece.
What plant-based entrée could stand in for the typical ribs, brisket, or pulled pork? What plant-based dish would feel just as home alongside classic side dishes like baked beans, coleslaw, potato salad, and corn?
We had all enjoyed whole-roasted cauliflower, but never one that had been treated like a barbecued cut of beef, chicken, or pork. We decided to give it a try.
Seasoning & Roasting the Cauliflower
We started by lightly trimming the head, brushing it with olive oil and then heavily coating it with our All-Purpose Spice Rub—a blend of paprika (we used smoked), brown sugar, garlic powder, black pepper, and salt—just the kind of rub you'd sprinkle on ribs or a pork shoulder before throwing them in a smoker or on the grill.
Then we roasted the cauliflower. We started at thirty minutes—it wasn't cooked through. We bumped the time to forty-five minutes—still too crunchy. We roasted it for an hour—getting close! At that point, we brushed it, as you would ribs, with barbecue sauce and roasted it for another fifteen minutes, and it was just how we liked it—tender enough that you almost didn't need a knife to cut it, yet firm enough to hold its shape.
When brushing on the barbecue sauce, we noticed the spice rub tended to come off on the brush. To keep that from happening, we thinned the barbecue sauce with water to an easy-pour consistency, which coated the barbecued cauliflower like warm chocolate sauce over ice cream.
Serving Barbecued Cauliflower
As if it were a cut of meat, we set the Barbecued Cauliflower on a cutting board and carved it into wedges, drizzling it with extra barbecue sauce and sprinkling it with All-Purpose Spice Rub-flavored panko, which gave it added crunch, which we like a lot.
Summer Staples Made Plant-Based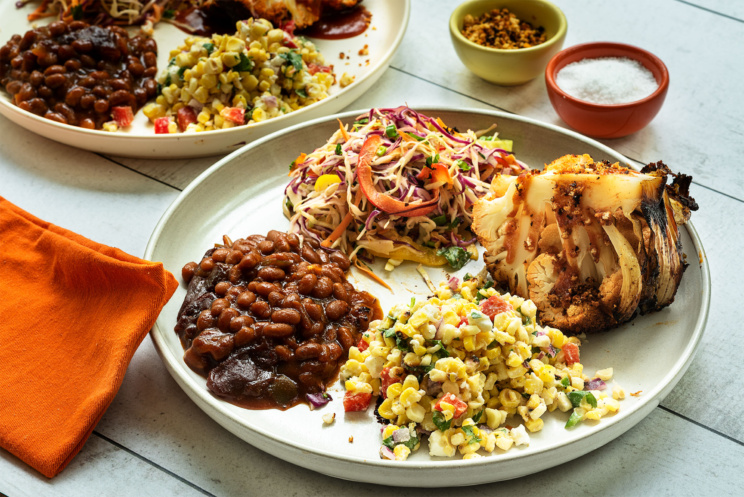 We developed this Barbecued Cauliflower as part of our Memorial Day plate. It goes great with our Southern-Style Baked Beans, Street Corn Salad, and Multi-Color Coleslaw.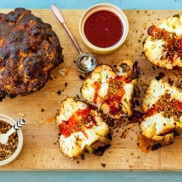 Barbecued Cauliflower
Recipe Notes
Leftover Barbecued Cauliflower is delicious. You've already got the oven going, and there's enough spice rub for two heads, so double the recipe, if you like.
Ingredients
1/4

cup plus 1 1/2 teaspoons

All-Purpose Spice Rub

1

large

head cauliflower,

stem trimmed, leaves left intact

1/4

cup

plus 1 teaspoon olive oil

6

tablespoons

barbecue sauce,

plus extra for serving

1/2

cup

panko breadcrumbs
Instructions
Make All-Purpose Spice Rub. Adjust oven rack to lowest position and heat oven to 400 degrees.

Brush cauliflower with 1/4 cup of the olive oil and sprinkle with 1/4 cup of the spice rub. Set on a small, rimmed baking sheet; roast until a thin-bladed knife inserted into the cauliflower can easily be removed, 1 to 1 1/4 hours. Thin the barbecues sauce with enough water that it pours easily. Remove the cauliflower from oven, pour barbecue sauce all over to completely coat, and then return it to the oven. Continue to roast until barbecue sauce is set, 10 to 15 minutes longer. Remove and let stand to cool slightly.

Meanwhile, heat a small skillet over medium-low heat; mix panko with remaining spice rub and olive oil. Add panko to skillet and toast, stirring frequently, until golden brown, about 5 minutes.

When ready to serve, cut cauliflower into 4 to 6 wedges. Drizzle with extra barbecue sauce, sprinkle with breadcrumbs, and serve.