As we discussed this year's Memorial Day recipes, we chose our main course first—Barbecued Cauliflower as a celebratory Planetarian option. It's hearty enough to replace (or supplement) the usual ribs, pulled pork, and brisket one might serve on such an occasion. Main course in place, it was time to add in the accompaniments. It was then we realized we had yet to offer a Planetarian coleslaw recipe.
For now, this Multi-Color Coleslaw recipe will live in the Celebrations section of the Capsule Kitchen. But, eventually we will offer it as a formula as well. After all, cabbage-based slaws mostly consist of the same components. First, there's cabbage, a carrot for color, and often bell pepper for flavor and more color. Then, whether it's scallion or red or white onion, most slaws call for a member of the allium family. Often there's an herb. And finally, whether it's sweet or savory, creamy or oil- and vinegar-based, every slaw needs dressing. In the coming months, stay tuned for more variations.
Making It Ahead
If you need to make this coleslaw ahead, we suggest thinly slicing the cabbage and scallions, grating the carrot, and mixing the mayonnaise and vinegar. When you're within an hour or two of serving the slaw, chop the cilantro (if using) and add it to the cabbage mixture along with the dressing and a generous sprinkling of salt and pepper. Thoroughly toss the salad and then taste it. It may need a drop or two more of vinegar, another pinch of salt, or few grinds more of pepper. Adjust these flavors and then taste again. When you've got it just right, cover and refrigerate it until ready to serve.
Leftover Coleslaw
Leftover slaw is great. Just understand that once the salt has been added to the cabbage, it draws out vegetables' water, so day-old slaw is usually a little juicier. For this reason, I usually perk the salad right back up with another light drizzle of vinegar and another pinch of salt.
Summer Staples Made Plant-Based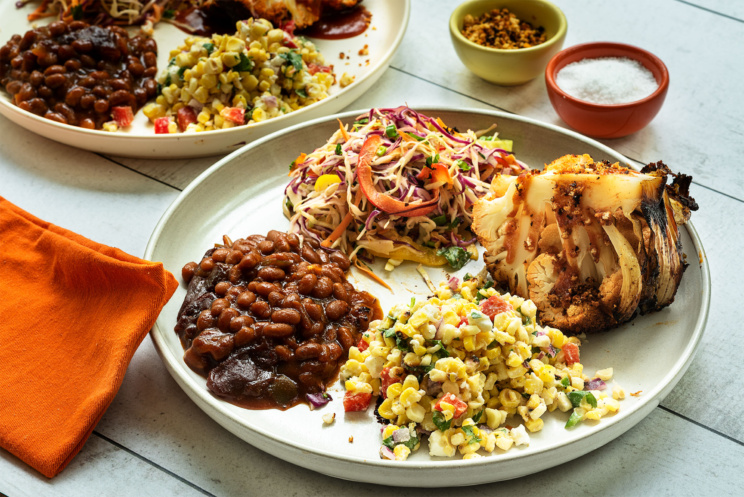 We developed this Multi-Color Coleslaw as part of our Memorial Day plate. It goes great with our Barbecued Cauliflower, Southern-Style Baked Beans, and Street Corn Salad.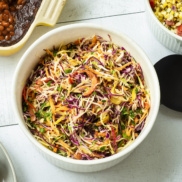 Multi-Color Coleslaw
Recipe Notes
Using a combination of green and purple makes for a more colorful slaw, but you can make it with one or the other.
Ingredients
1

pound (about 1/4 small head)

each: green and purple cabbage, very thinly sliced

1

large

carrot,

coarsely grated

1/4

each: small red and yellow bell pepper

4

medium scallions,

sliced thin

1/2

cup

chopped fresh cilantro

(optional)

9

tablespoons

(1/2 cup plus 1 tablespoon) vegan mayonnaise

2

tablespoons

cider vinegar

Salt and freshly ground black pepper
Instructions
Mix cabbage, carrot, peppers, scallions, and cilantro in a large bowl. Add mayonnaise, vinegar, and a generous sprinkling of salt and pepper. Toss, taste, and adjust seasonings, including additional vinegar, salt, and pepper; toss again and serve.