As we discussed this year's Memorial Day recipes, we chose our main course first—Barbecued Cauliflower as a celebratory Planetarian option. It's hearty enough to replace (or supplement) the usual ribs, pulled pork, and brisket one might serve on such an occasion. Main course in place, it was time to add in the accompaniments. It was then we realized we had yet to offer a Planetarian version of classic baked beans. We've knew vegetarian baked beans still needed to have smokiness, tons of flavor, and great texture, and we made just that!
In one of my earlier books, Perfect Recipes for Having People Over, I offered a recipe for the baked beans of my southern youth entitled Quick Southern-Style Baked Beans, which starts off with a pan of sizzling bacon, whose fat, permeates the dish and who's strips rest on top of the baking beans, offering additional flavor and texture. Would these beans be as delicious without the pork flavoring?
Smoky Flavor, Without the Bacon
The answer is yes! To mimic a little of that smoky bacon flavor, I invested in a small bottle of liquid smoke, adding a few drops as a stand-in for the pork. I started with a half-teaspoon, and already I could taste it. I added a quarter teaspoon more, which I felt was just right. For a little heavier smokiness, go with an even teaspoon. Or you can omit the liquid smoke altogether.
Vegetarian Baked Beans
This baked bean recipe is so simple and straightforward—sauté an onion and a half a green pepper. When they've softened, dump in the rest of the ingredients and heat them up. Transfer the hot mixture to a baking dish and set it on autopilot for two hours. They're perfect every time. Leftover baked beans are wonderful on toast for breakfast, lunch, or dinner—my English son-in-law loves them this way—but if you don't want to make such a large quantity, feel free to halve the recipe and bake the beans in an eight- or nine-dish baking dish. Once you make these baked beans, this will likely be your go-to recipe. You'll never need to search for another baked recipe again.
Summer Staples Made Plant-Based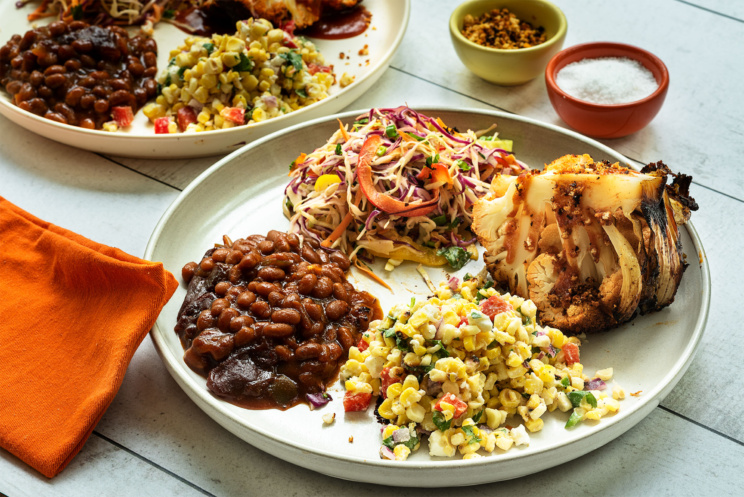 We developed these Southern-Style Baked Beans as part of our Memorial Day plate. It goes great with our Barbecued Cauliflower, Multi-Color Coleslaw, and Street Corn Salad.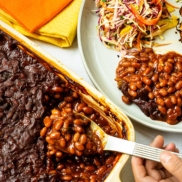 Southern-Style Baked Beans
Total time:
2
hrs
15
mins
Recipe Notes
Ingredients
2

tablespoons

olive oil

1

medium

onion,

cut into small dice

1/2

bell pepper,

color choice yours, cut into small dice

3

large cans (28 oz each)

vegetarian baked beans

3/4

cup

barbecue sauce

1/2

cup

brown sugar

1/4

cup

distilled or cider vinegar

2

tablespoons

Dijon mustard

3/4

teaspoon

liquid smoke,

optional
Instructions
Adjust oven rack to lower-middle position and heat oven to 325 degrees. Heat oil in a large pot over medium-high heat; add onions and peppers and sauté until tender, about 5 minutes. Add beans and remaining ingredients bring to a simmer. Pour beans into a 13-by 9-inch (or similar size) ovenproof pan. Bake until beans are bubbly and sauce is the consistency of pancake syrup, about 2 hours. Let stand to thicken slightly and serve.