If by becoming a Planetarian, you think you'll forever miss the boneless, skinless chicken breast, don't worry. First, as a Planetarian, you can enjoy a sautéed chicken breast anytime you like, but secondly, we've discovered a very good stand-in for "chicken" cutlets.
You may have guessed that it's tofu, but before you close your mind, we'd like to share our experience. We've experimented with all the major tofu varieties—from silken to extra-firm. Recently, we started picking up super-firm tofu, which we initially liked because the blocks were dense enough that they didn't need pressing to remove the excess liquid. It was like being able to buy Greek yogurt after years of having to strain it yourself.
But as we started developing a Planetarian breaded cutlet recipe, we realized there was more to like about super-firm tofu than pat-dry convenience. When we performed a side-by-side taste test of extra-firm and super-firm cutlets, we appreciated the latter's dense, meaty texture.
Making Planetarian "Chicken" Cutlets
To make Planetarian cutlets, start by removing a block of super-firm tofu from its packaging and patting it dry—no pressing, no squeezing! To "butcher" your tofu, stand the block on end and cut it crosswise into three scant 3/4-inch thick slabs. As with boneless, skinless, chicken breasts, season your tofu well. Lay the slabs on your work surface, taking time to season both sides with salt and pepper. Depending on your dipping sauce, sprinkle both sides of each cutlet with the suggested spice or dried herb.
Just as you would with any cutlet, use the dredge, dip, dredge method—first in flour, then in liquid. These two in combination become the culinary glue for the final dredge. Instead of dipping the cutlet in egg, we use aquafaba, a fancy term for humble chickpea cooking liquid. It's thicker than water, and as you dip in the floured cutlets, it thickens even more. You could coat the cutlet in regular breadcrumbs, but we prefer coarser Panko which fries up super crunchy!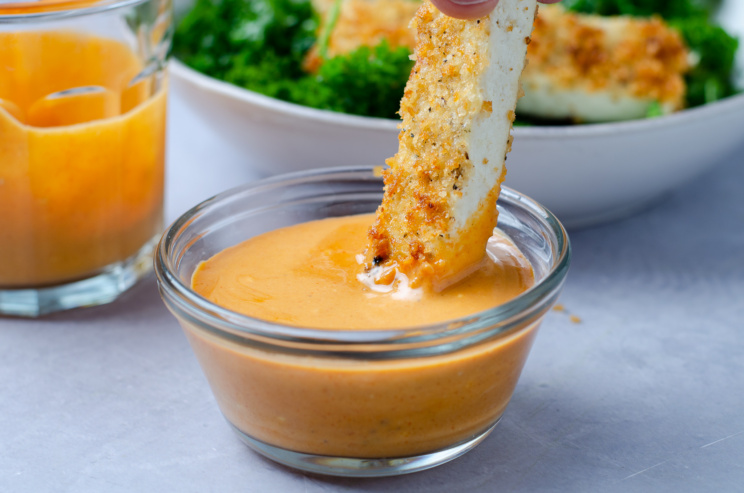 Pan-frying the cutlets is the same as frying any other cutlet. Start heating the oil while you're prepping, so that when you're ready to fry, it's almost up to temperature. When the cutlets are coated, simply turn the heat from low to medium-high and within minutes, the oil is ready. The average large skillet will hold three cutlets. Depending on how many cutlets you need, cook three in one batch or six cutlets in two. It doesn't take long, however. They cook in about six minutes. With chicken, you have to worry about whether the cutlet is cooked through. Not so with tofu. When it's impressively golden brown on both sides, it's done!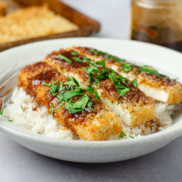 How To: Planetarian "Chicken" Cutlets
Recipe Notes
With Katsu Sauce, sprinkle the cutlets with 4 teaspoons of 5-Spice powder.
With Buffalo Cream Sauce, sprinkle cutlets with 2 teaspoons celery seeds.
With Pesto-Flavored Marinara, season cutlets with 2 teaspoons each: dried basil and oregano.
With Chimichurri Sauce, sprinkle cutlets with 2 teaspoons each: ground coriander and cumin.
Ingredients
1

cup

frying oil such as peanut or vegetable

2

packages (2 lbs)

super firm tofu,

each piece cut into three scant 3/4-inch slabs

Salt and ground black pepper

Spice

(see note above)

6

tablespoons

all-purpose flour

3/4

cup

aquafaba (chickpea cooking liquid),

from a 15- to 16-ounce can

1 1/2

cups

panko

Dipping or Drizzling Sauce,

see below
Katsu-Style Sauce
6

tablesppons

each: ketchup and Worcestershire sauce

3

tablesppons

each: soy sauce, seasoned rice vinegar, and sugar
Buffalo Cream Sauce
1/2

cup

hot red pepper sauce such as Franks or Crystal

1/2

cup

coconut cream from a 13.5 ounce can
Pesto-Flavored Tomato Sauce
Chimichurri Sauce
2

large cloves

garlic

1

cup

packed parsley leaves and tender stems

1/2

cup

jalapeño, stemmed and seeded

6

tablesppons

extra-virgin olive oil

1

tablespoon

each: lemon juice and seasoned rice vinegar

2

teaspoons

each: dried oregano and ground cumin

Salt
Instructions
Heat oil in a large (12-inch) skillet over low heat while preparing the cutlets.

Lightly season each cutlet with salt, pepper, and spice of choice. Turn cutlets over and repeat seasoning on remaining side. Working one cutlet at a time, dredge in flour, dip in liquid, dredge in panko—shaking pan to help coat them—and then set on a rimmed baking sheet.

When cutlets have been breaded, increase heat to medium-high. When a pinch of panko dropped into the hot oil sizzles immediately, you're ready to fry. Working 3 cutlets at a time cook, turning only once, until crisp dark golden brown on both sides, about 6 minutes total. Return cutlets to baking sheet and repeat cooking process with remaining 3 cutlets. Serve immediately with optional Dipping or Drizzling Sauce.
Katsu-Style Sauce
Whisk all ingredients until sugar dissolves. Serve. (Can be covered and refrigerated several weeks.)

Dip bites of tofu cutlets in this sauce or drizzle this sauce over the cutlets. If you serve the cutlets on a bed of Massaged Kale, consider this sauce your dressing, drizzle it over the cutlets and the greens.
Buffalo Cream Sauce
Heat pepper sauce and coconut cream to a simmer. Remove from heat and serve. (Can be covered and refrigerated several weeks.)
Pesto-Flavored Tomato Sauce
Heat tomato sauce. Off heat, stir in pesto. Serve.

Spoon this sauce over Planetarian Cutlets for a chicken Parmesan experience!
Chimichurri Sauce
Mince garlic, parsley, cilantro, and jalapeño in the food processor. Add remaining ingredients, including a generous sprinkling of salt. Process until pureed. Taste and adjust seasonings, including additional salt or lemon juice, if needed. Serve. (Can be covered and refrigerated several weeks.)