For the same reason you massage hearty greens in the warmer months, it's a good idea to shallow–cook winter greens in the cooler months. Prep those big bags of kale and collards into something easy to use and cook with. Reducing their bulk makes it much easier to store them, much easier to decide to use them, and much easier to cook with them.
Blanching Winter Greens
Typically, you blanch hearty greens in a big pot of water. But, blanching them in a small quantity of water saves a lot of time bringing it to boil. And more importantly, it helps the greens retain some of their character and flavor.
Store in the Fridge
Once the greens have been shallow cooked—it takes just seven minutes—rinse them under cold running water to cool them quickly and help them retain their color, squeeze out excess liquid, and give them a rough chop. At this point, you can refrigerate the greens for a week or so . In fact, we have so many ideas for incorporating Shallow–Cooked Winter Greens throughout your week, that we're featuring them this week and next.
Once the greens have been shallow–cooked, all they really need is to be cooked in a little olive oil to enrich them, onions and garlic to flavor them, and a little broth to moisten them.
How to Serve Winter Greens
There was a time when winter greens were just a side dish, often flavored with pork. No more! Greens are the star. You can serve them on a bed of polenta or toss them with pasta for a quick, satisfying supper. And for those who want to enjoy salad in the cooler months.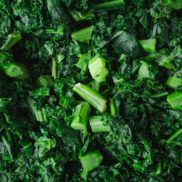 Shallow-Cooked Winter Greens
Recipe Notes
Using bagged greens that have already been washed and chopped simplifies the process, but if you can't find bagged greens, use two pounds of bunched greens—stems and greens—and then wash and coarsely chop them yourself
Ingredients
1

tablespoon

salt

2

pounds

washed and chopped hearty greens, such as kale, collards, mustard or turnip greens
Instructions
Bring 2 quarts of water to boil in a large pot. Add salt and the greens; stir until greens have wilted enough to be submerged. Cover and cook until the greens are just tender, about 7 minutes. Drain the greens and rinse until cool with cold water. Squeeze excess water from the cooked greens and give them a rough chop. (Can be covered and refrigerated for a week or more.) When ready, proceed with one of the following recipes.