We love Chicken Parmesan and we like Eggplant Parmesan in theory. But the typical recipes for Eggplant Parm are a poor substitute for the original chicken dish. Often, eggplant's spongy texture soaks up every bit of oil you give it so that by the time you dip it, dredge it, and fry it, Eggplant Parmesan—even though it's a vegetable— it is usually more leaden than its meaty cousin. We liked the idea of Eggplant Parm as a Planetarian option but we needed it to be lighter, healthier, faster, and more flavorful than your standard Eggplant Parm.
Though not strictly Eggplant Parmesan, the version we're offering below is my kind of dish. First, it's full of flavor and so satisfying without all the cheese and frying oil. Secondly, it's quick. You'll have it prepped and ready before the oven is even preheated.
Baked Eggplant Parm is as Easy as Slice, Season, and Bake
Simply toss the sliced eggplant with oil, salt, pepper, and minced garlic right in the pan in which you'll be roasting it. Because the oil absorbs into the eggplant pretty quickly, make sure that once you drizzle the oil to immediately pick up the eggplant slices and rub the olive oil over both sides of each piece.
Do the same thing with some sliced cherry tomatoes—toss them with oil, salt, pepper, and garlic— and pour them over the eggplant. Roast them at a high temperature until they're fully cooked and golden—it only takes about 20 minutes. Top them with some yummy pesto-tossed breadcrumbs and pop the pan back in the oven and continue to bake it until the crumbs turn golden brown. If you don't have pesto, simply toss the crumbs with olive oil, Parmesan cheese, dried basil and a pinch of salt. (See exact proportions in the recipe notes.)
Bulk it Up
You'll need to bulk out the meal a little, so serve it with a side of pesto- or marinara-tossed pasta and a green vegetable or a tossed green salad. It's weeknight fare, for sure, but when Maggy tasted it, she said, "I'd definitely serve this for company."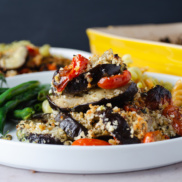 Easy Baked Eggplant Parm
Recipe Notes
If you don't have pesto, simply toss the breadcrumbs with 3 tablespoons Parmesan cheese (vegan or dairy), 1 tablespoon olive oil, 1 teaspoon dried basil, and a pinch of salt.
Ingredients
1

large (about 1 1/2 lbs)

eggplant,

trimmed and cut into about 1/4-inch-thick slices

Salt and ground black pepper

4

garlic clove,

minced

4

tablespoons

extra-virgin olive oil

1

pound (about 3 cups)

cherry tomatoes

3/4

cup

panko breadcrumbs

3

tablespoons

pesto
Instructions
Adjust oven rack to lower-middle position and heat oven to 450º. Place eggplant in a 13 x 9 inch baking dish. Sprinkle with salt, pepper, and 2 of the garlic cloves; toss to coat. Drizzle with 3 tablespoons of oil, rubbing the oil all over each of the slices. Arrange slices evenly over the pan. Sprinkle tomatoes with salt, pepper, and garlic; toss to coat. Stir in remaining tablespoon of oil and scatter them over eggplant. Roast until eggplant is golden and tender, about 20 minutes. Meanwhile mix breadcrumbs with pesto and sprinkle over the dish Continue to bake until golden brown, about 10 minutes longer. Serve.