Having grown up in the south, I'm a huge hominy fan, and since the Mexican-inspired soup posole features hominy, I've published a couple of different recipes for it over the years. I developed my first posole recipe back in 2014 for Three Many Cooks, my daughters' and my food blog we loved working on for nearly six years. It was a simple recipe, but it started with cooking fresh tomatillos and pureeing them in a food processor before making the soup.  By 2018, I had figured out how to sub in a sixteen-ounce jar of salsa verde for the tomatillos and chopped jalapenos.
Now, as a Planetarian in 2023, I'm using white beans for the rotisserie chicken. This new iteration is marvelous and incredibly simple. So, if you're on the hunt for a hearty and flavorful vegetarian dish, look no further than this delicious Super Simple White Bean Posole, a celebration of vibrant flavors and textures.
Salsa Verde Kickstart

The star of this Super-Simple White Bean Posole is the zesty salsa verde. Made from tomatillos, cilantro, jalapeños, and garlic, this sauce provides a tangy and spicy punch that elevates the entire meal, providing intense flavor.
Hominy: The Heart of Posole
Hominy, hulled and dried maize kernels, is a hallmark of traditional posole. In this vegetarian version, it adds a satisfying chew and hearty corn flavor. It's a gluten-free, high-fiber ingredient that keeps you full and content.
White Beans for Creaminess
White beans are a creamy, protein-rich addition to this dish. They provide a delightful contrast to the chewy hominy and enhance the overall texture. They're a great source of plant-based protein and dietary fiber.
Balancing Boldness and Comfort
This plant-rich posole is a balance of bold and comforting elements. The salsa verde's boldness is perfectly mellowed by the beans and hominy, creating a harmonious symphony of flavors. It's a great way to satisfy both adventurous foodies and those seeking a classic, filling meal.
Health Benefits Galore
The dish is not just delicious; it's packed with health benefits. It's gluten-free, and brimming with vitamins, fiber, and antioxidants, and if you use vegetable broth, it's vegan, making it a perfect choice for a nutritious meal.
Get Cooking!
This Super Simple White Bean Posole is a celebration of flavors, health, and culinary tradition. It's the perfect choice for anyone looking for a satisfying, meatless meal with a Mexican twist. Whether you're a food enthusiast, a health-conscious eater, or a casual cook, this dish ticks all the boxes and is worth sharing with friends and family.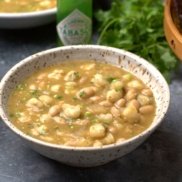 Super-Simple White Bean Posole
Recipe Notes
*Two cans each of white beans and hominy is a bit skimpy and three cans each is a little much, so use two cans of one and then take your pick—the bean or the hominy—and use three cans of that one. Serve with tortilla chips and lime wedges.
Ingredients
2

tablespoons

oil

1

medium-large onion,

cut into medium dice

2

teaspoons

cumin

1

teaspoon

dried oregano

1

quart

broth,

your choice

1

jar

(16-ounces) salsa verde

*2 to 3 cans white beans

(15 to 16 ounces each), drained

*2 to 3 cans hominy

(15 to 16 ounces each), drained

1/4

cup

chopped fresh cilantro
Instructions
Heat oil in a soup kettle over medium-high heat. Add onions; sauté until tender, 4 to 5 minutes. Add cumin and oregano; continue to cook until fragrant, a minute or so longer. Add broth, salsa, beans, and hominy; simmer to blend flavors, about 10 minutes. Stir in cilantro; taste and adjust seasonings. Serve.