---
This is a Variation on a Root Formula, a simplified recipe that shows which ingredients
are core and which can be changed to create different flavor combinations or use what you
have on hand. See our other Lentil Stew variations at the bottom of the Root Formula page.
---
As the cool weather sets in, many in our community had asked us for more lentil recipes. With winter here we decided it was finally time to develop a lentil stew recipe.
In our work with Lentil-Walnut Mix, we knew that you could cook up lentils much quicker using this simple trick. First, soak a pound of lentils into salted water for four hours (or up to twenty-hours). Then, the rehydrated legumes will cook in a mere cup of water in three to four minutes. With that knowledge, we set out to develop a stew formula that started with cooked lentils, making it possible to make stew from scratch on a busy weeknight in about twenty minutes.
In our lentil stew research, we noticed that many lentil stew recipes—regardless of origin—called for similar ingredients. They all had onions, celery, carrots, garlic, broth, tomatoes. Only the spices changed, which made it easy for us to develop a Capsule Kitchen Formula.
Capsule Kitchen Lentil Stew
Finally, in thinking about lentil stew from a Capsule Kitchen perspective, we developed a Formula that calls for Capsule elements—Soak and Cook Lentils and Vegetable Tomato Sauce. That way, if you make these two Capsule Kitchen components, you've got dinner sorted for the week. By making these two elements, you'll have enough lentils to make two completely different stews. And to make those two lentil stews, you'll only use one quart of tomato sauce. You'll have enough leftover sauce to make three very different meals throughout the week. Choose among Creamy Homemade Tomato Soup, Quick Bean and Corn Vegetarian Chili, Pasta e Fagioli, or Coconut Curry with Chickpeas and Spinach, all of which come together very quickly because the tomato base has already simmered.
If you already happen to have a quart of Garlicky Tomato Sauce made, you can omit the garlic from the following recipes. Then simply sauté a diced small onion, celery stalk, and carrot with the spices before adding the tomato sauce, lentils and broth to the pot.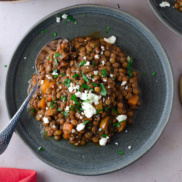 Lentil Stew with Middle Eastern Flavorings
Recipe Notes
You can serve this stew on its own with pita bread or serve it over a bed of couscous.
Ingredients
1 to 2

tablespoons

olive oil

3

cloves

garlic,

minced

1

teaspoon

each: ground allspice,

coriander, and cinnamon

1/2

teaspoon

each: ground black pepper,

cloves, cumin, nutmeg

1

large

bell pepper,

about 8 ounces, cut into medium dice

2

cups

vegetable or chicken broth,

your choice

1/2

recipe

Soak and Cook Lentils,

scant 3 cups, cooked

1/2

cup

chopped fresh parsley

1

tablespoon

lemon juice

Salt and ground black pepper
Instructions
Heat oil in a soup kettle over low heat while mincing garlic and measuring spices. When ready to cook, increase heat to medium-high and add garlic and spices; cook, stirring constantly, until fragrant, a minute or so. Stir in bell pepper to coat. Add broth, tomato sauce, and lentils; bring to boil. Reduce heat to medium-low and cook, stirring occasionally, until peppers are tender and liquid has reduced to stew consistency, 10 to 15 minutes. Stir in parsley and lemon juice. Taste and adjust seasonings, including salt and pepper, and adding extra water or broth if you prefer a juicier stew. Serve